Elite involved in Model Town tragedy doesn't deserve any concession: Dr Tahir-ul-Qadri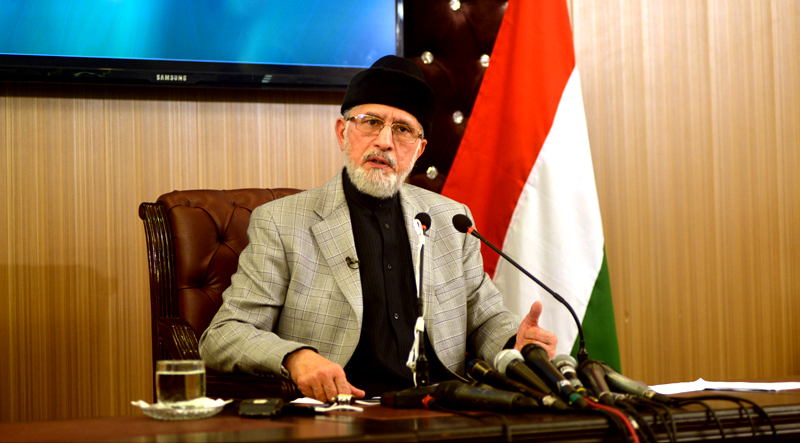 PAT Chairman Dr Muhammad Tahir-ul-Qadri has said that the political elite that is involved in killing innocent people in the Model Town tragedy does not deserve to be given any legal concession. He said that instead of putting them behind bar, they are being given concessions. He asked whether others accused in corruption cases get similar treatment. He said that the Sharif brothers are economic terrorists and the accountability court should not give them any benefit; and every penny of the stolen wealth should be retrieved. He said that the mafia is trying to show itself as an oppressed. He said that with the publication of Justice Najfi Commission report, the whole truth will come out in the open, adding that the family members of the martyrs are waiting for release of the report.
Dr Tahir-ul-Qadri made these remarks while talking to the senior party leaders on telephone yesterday. He said that the threat of perpetrating another Model Town tragedy hurled by the Interior Minister is an admission of crime in the killing of 14 innocent people. He said that the ruling elite has got used to shedding blood of innocents. He said that had they been held accountable in the Model Town massacre, they would not dared threaten again.
Expressing his deep sense of grief and sorrow on the killing of 15 youths in Turbat, the PAT Chairman said that the corrupt rulers and oppressive system has made life miserable for the youth of the country. He said that the youths looking for jobs are either committing suicide or being killed. He said that the looters have no idea what the people go through in their struggle to make their both ends meet, stating that they are only busy in protecting their ill-gotten wealth. He said that the Punjab chief minister never tires of making tall claims of progress and prosperity but the youth of his province are being killed as they struggle to find jobs.
Dr Tahir-ul-Qadri said that the rulers threw a feeler by changing the text of the declaration form regarding the finality of prophethood but when severe backlash came, they gave the impression of having addressed the issue by restoring the original text of the oath. He said that it was we who indicated that the whole law dealing with the constitutional status of the Ahmadis had been scrapped. He said that when there was hue and cry over this, all suspended clauses were restored. He said that the question arises as to the identity of those who attacked the foundation of the faith and why they are being protected. He demanded that those responsible for this legal terrorism should be unmasked and held accountable