Monthly Spiritual Gathering of Gosha-e-Durood - 4th Nov 2017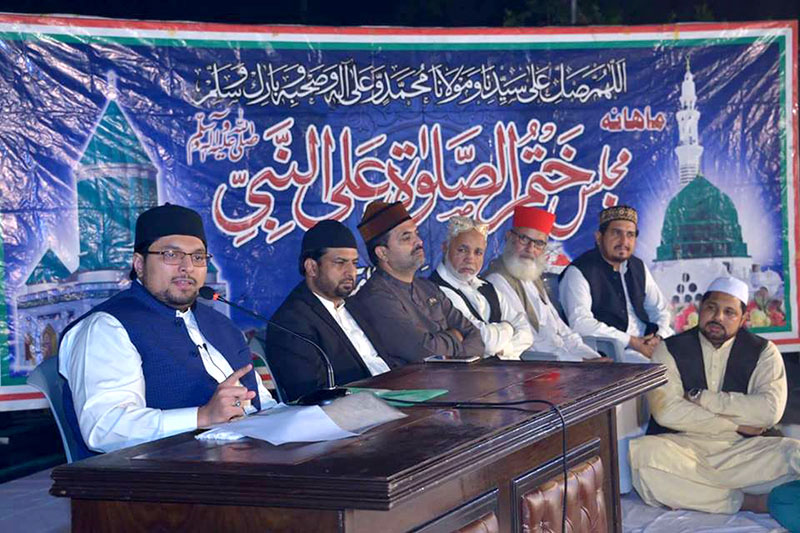 Addressing a massive gathering of monthly spiritual gathering held at Minhaj-ul-Quran secretariat, the president of MQI, Dr. Hussain Mohi-ud-Din Qadri, has said that the government hurt the religious sensibilities of the Muslims by making an amendment to the declaration regarding the finality of the prophethood and abolishing the law that deals with the constitutional status of Ahmadis altogether. He said that even the responsible members of the ruling party have admitted that the change in the laws was engineered under planning. He said that unless those involved in the conspiracy are brought to justice, the millions of Muslims would remain restless. He said that now the opposition parties are duty bound not to support the regime in any act of legislation. Amendment in the finality of prophethood declaration is in fact a ruse to make a dent in the love and unflinching attachment, which the Muslims have with the Holy Prophet (peace be upon him).
Dr Hussain Mohi-ud-Din Qadri said that the rulers insulted the public mandate by legislating against the finality of prophethood law and electing a disqualified person as the head of a political party. This shameful act has outraged the millions of Muslims and associates of MQI across the world. He added that the opposition parties should not trust the ruling party in any way because all this legislation is aimed at protecting the corruption of a single family, thereby providing it a shield against any kind of punishment. And for this, he said, they can go to any level, so much so that they can strike at the very foundations of religion.
Dr. Hussain Mohi-ud-Din Qadri noted that the Holy Prophet (PBUH) is the last of the Prophets who sealed the chain of prophethood and a perfect model for humanity to follow. He (PBUH) is the leader of the moral intellectual and religious revolution, which triggered social changes, eliminated the mindset of pride and arrogance and sowed the seeds of moderation and high moral values in the society. He said that the prophetic revolution is oriented towards mutual accommodation inclusiveness, respect of all religions, freedom of thought and expression. The Holy Prophet (PBUH) taught his followers to respect other religions and their adherents and cultivate an attitude of tolerance and inclusiveness. He said that said that MQI is struggling as a revolutionary movement to unleash an intellectual, moral and social revolution.