PML-Q and MWM extend support to PAT on Model Town tragedy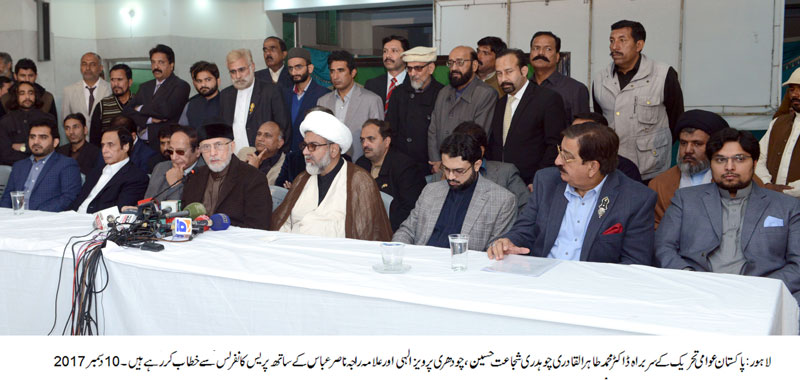 PML-Q President Chaudhry Shujaat Hussain, senior leader and former Chief Minister Punjab Chaudhry Parvez Elahi and MWM leader Allama Raja Nasir Abbas called on PAT Chairman Dr Muhammad Tahir-ul-Qadri at the central secretariat here on Sunday and reiterated their support to PAT on its quest for justice for the families of the martyrs of Model Town massacre. They said that after the publication of Justice Najafi Commission report, both Shehbaz Sharif and Rana Sanaullah are left with no option but to resign and surrender themselves to the law.
Dr Tahir-ul-Qadri thanked the Chaudhry brothers and Allama Nasir Abbas for their consistent support and stated that they have been standing by PAT on the Model Town tragedy right from day one. He announced that lawyers' convention on the subject of 'Justice Najafi Commission report and justice for martyrs of Model Town' will be held on Thursday at 2 pm. He said that the lawyers' community rendered exemplary sacrifices for supremacy of law and justice in the country. He said that together with legal fraternity, we will get justice by way of Qisas.
The PAT Chairman advised Punjab Chief Minister and Law Minister to stop running away from justice. He said that the more they delay in tendering resignation, the severer will be the accountability. He said that IGP was transferred two days ahead of Model Town massacre with the approval of Nawaz Sharif, which is a proof of the fact that the ousted premier is involved in the tragedy. He said that in the meeting held on June 16, Principal Secretary Dr Touqir Shah and Home Secretary represented the Chief Minister.
Addressing the press conference, Chaudhry Shujaat Hussain said that Nawaz Sharif has become part of history, stating that now is the turn of Punjab Chief Minister. He said that the orphan children of the mothers who were killed in broad daylight are asking as to why their mothers were killed. He said that Justice Najafi Commission report has openly revealed that Shehbaz Sharif and his whole government is involved in the Model Town tragedy. He said that we stood by PAT Chairman Dr Tahir-ul-Qadri on the question of justice and will continue to extend to PAT every possible support even now. He said that it happened for the first time in history that the SC informed the people of the reasons of ousting Nawaz Sharif power both in English and Urdu languages.
Chaudhry Parvez Elahi, while addressing the media men, said that Model Town is not a corruption case. He said that it is a murder case in which innocent people were killed. He said that the accused have clearly been identified and holding them accountable is the only job left, for this matter is related to the sanctity of human life. He said that we raised Model Town issue at every forum. He said that it is not a political issue but an issue of the public importance, and urged everyone to play their part in getting justice for the martyrs.
Allama Raja Nasir Abbasi also reassured PAT Chairman of his and his party's support on the Model Town. He said that we were together on this issue before and we are together today. He said that the release of Justice Najafi report is the first step towards justice, adding that we will have to take it to logical conclusion. He said that the blood of innocent people will continue to haunt the killers. He said that they are so brute that they even shot the women dead. He said that they do not deserve any concession. He said that Chaudhry Sher Ali, the member of the ruling family, stated publicly that Rana Sanaullah is the killer of 20 people. He said that it is for the people to judge whether they will allow the killers to rule them. He said that MWM stands by Dr Tahir-ul-Qadri in the struggle for justice.
Senator Kamil Ali Aga and Mian Munir were part of PML-Q delegation whereas Syed Asad Abbas Naqvi and Allama Hassan Hamdani were present as members of MWM delegation.