Failure on NAP means betrayal of blood of APS children: Dr Tahir-ul-Qadri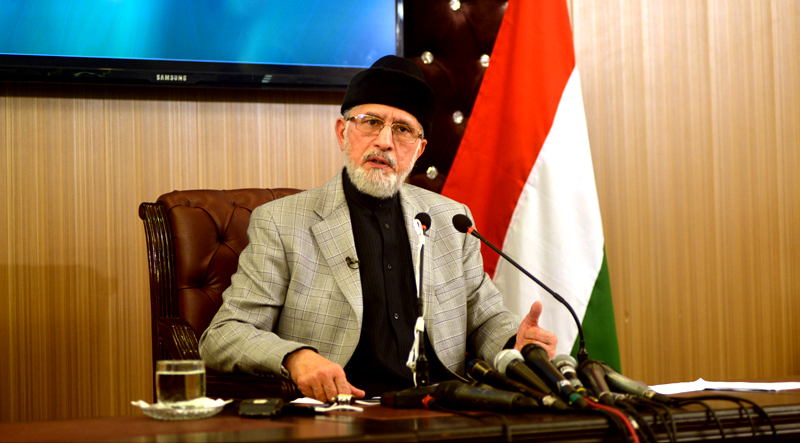 On the third anniversary of APS Peshawar tragedy, PAT Chairman Dr Muhammad Tahir-ul-Qadri paid rich tributes to the young children and their teachers who were martyred on December 16, 2014. He said that by failing to implement the National Action Plan in its entirety, the blood of the martyred children was betrayed. He said that the real face of the rulers vis-à-vis NAP can be seen in the reports compiled by the SC judge Qazi Faez Isa. He said that failure to stop foreign funding, bring about reforms in police department and other law enforcement agencies, and initiate timely action against terrorists in Punjab resulted in encouraging the terrorists. He said that the government spent every day in thwarting NAP and the ousted Prime Minister was more interested in hatching conspiracies against army that was busy fighting the terrorists instead of governing.
Dr Tahir-ul-Qadri said that the nation continues to face multiple crises and miseries. He said that on the one hand, we are grieved on losing 73000 Pakistan, the dismemberment of Pakistan that happened on this very day is a source of eternal shame on the other hand. He said that the nations learn from their tragedies and work out a strategy for the future but added in the same breath that the rulers did not learn any lessons from APS tragedy and the separation of East Pakistan. He said that the takeaway lesson from the Fall of Dhaka was that Pakistan could be made to stand on its feet economically and from defence point of view by reducing depending on others. He said that contrarily Pakistan remains mired under mountain of debt while the ruling elite is busy in taking on the army. He said that one aspect of eliminating terrorism is to improve governance, ensure just distribution of resources, presence of honest and credible leadership, and respect of human rights and elimination of unemployment.