Oppressor gets encouraged only when the oppressed accepts cruelty: Dr Tahir-ul-Qadri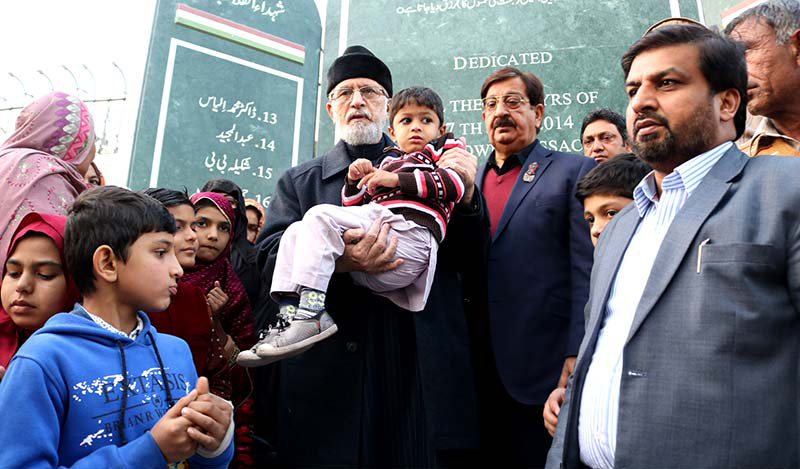 PAT leader Dr Muhammad Tahir-ul-Qadri has said that when the oppressed accepts oppression, and falls prey to expediency, greed and fear, it allows oppressors to become even more audacious and fearless. He said that the families of the martyrs of Model Town have chronicled a new chapter of perseverance, and courage by standing their ground against the might of the powerful people. He said that these sacrifices that were rendered against the oppressive system will not go in vain. He said that the publication of Justice Najafi Commission represents a significant development towards the goal of justice in the Model Town case, adding that the report is the outcome of the family members of the martyrs being steadfast and determined. He said that together with the courageous families, we will make sure that the perpetrators of the massacre of innocent people are taken to their logical end.
Dr Tahir-ul-Qadri stated these views in his meeting with the family members of martyrs, those injured and arrested in the police operations at the central secretariat yesterday.
Speaking on the occasion, the family members of the martyrs said that every tactic in the playbook was used to browbeat them into silence and submission. Lucrative offers of money and settling them abroad were made. The police officers and other local influential were sent to their residences to win them over but they said no to all offers. They said that the movement and the leader they are associated with is matchless. They said that they are proud of their leader Dr Tahir-ul-Qadri and his struggle. He said that it was due to blessings of the association that they were able to reject all offers and stand up to the oppressive system. They said that complete justice is yet to be done.
Senior PAT leaders Khurram Nawaz Gandapur, Rafique Najam, Syed Amjad Ali Shah, Hafiz Ghulam Farid, Ishtiaq Hanif Mughal, Naeem-ud-Din Chaudhry Advocate, and Tayyab Zia were also present on the occasion.
The family members of the martyrs said that Dr Tahir-ul-Qadri looked after them like a father. He said that they are ready to offer their own lives for the noble cause of peaceful change and revolution.
Dr Tahir-ul-Qadri gave away medals to the captives who suffered the rigours of imprisonment over their steadfastness and showed love and affection to the children of the martyrs. After the meeting, the PAT leader went to the Martyrs' Memorial along with the family members of the martyrs and laid the floral wreath there. He also made Dua for the departed souls.