I do not see government surviving beyond March 2018: Dr Tahir-ul-Qadri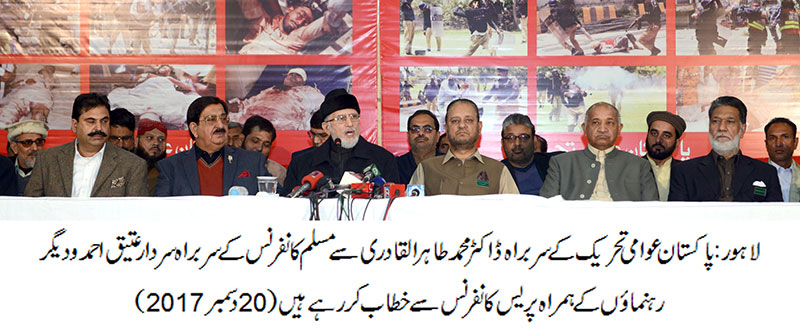 PAT Chairman Dr Muhammad Tahir-ul-Qadri, while addressing a press conference along with Sardar Attique Ahmed Khan, president of Muslim Conference of AJ&K, has said that the day ousted Prime Minister Nawaz Sharif announces to launch movement against judiciary, PAT will start its Qisas movement against him over the Model Town massacre. He said that he can say with a sense of conviction that the end of the ruling elite is near as he does not see them surviving beyond March 2018. He said that the deadline of 31st December is final and consultation with leaders of political parties about the post-deadline line of action is underway. He said that MQM-Pakistan leader Farooq Sattar is coming to Lahore at the head of a large delegation for a meeting with him on December 21.
Dr Tahir-ul-Qadri said that Nawaz Sharif is a metaphor of oppression and cruelty. He said that when his telephone calls are taken and decisions given accordingly, he would be happy, adding that in his dictionary, personal concession given to him is a justice. He said that Nawaz Sharif would now be seen leading a movement on media. He said that he does not have the courage and political capital to launch a campaign on the ground. He said that after Model Town massacre, both Nawaz Sharif and Shahbaz Sharif should be ashamed of talking about justice. He thanked Sardar Attique Ahmed and the senior leaders of his party for their visit of the PAT central secretariat and expressing their solidarity with the martyrs of Model Town.
While speaking to the media, Sardar Attique Ahmed said that Justice Najafi Commission report has held the Punjab government responsible for the Model Town massacre. He said that we consider the demand of resignation made by PAT Chairman as legitimate and fully support it. He said that Model Town tragedy is an incident of the worst state terrorism, adding that Pakistan does not afford 'fiercely independent' democracy that has no checks and balances. He said that whichever date Dr Qadri decides for the protest, Muslim Conference will give him unstinted support. He said that comparing the present system to democracy is negation of the latter.
Dr Tahir-ul-Qadri and Sardar Attique Ahmed Khan had a one-on-one meeting in which prevailing political situation in the country came under discussion. The PAT Chairman, while talking to the president of Muslim Conference, said that MQI Secretariat is Sardar Attique Khan's and Sardar Abdul Qayyum Khan's own place. 'Here they are hosts and we are guests'. He said that Rana Sanaullah told on the floor of the Assembly that there are confirmed reports that there are heaps of weapons in MQI. He asked the Punjab Law Minister to tell as to where supposed 'heaps of weapons' disappeared. He said that the right hand man of the Punjab Chief Minister confessed to violence and bloodshed in Model Town on the floor of the Assembly. He said that no one can save them from meeting their end now. He said that their rule is shaking and they will soon be impeached as per the Constitution and law. He said that jail is their destination.
The PAT Chairman said that Nawaz Sharif should give a date of his so-called 'Adl movement', we will announce the launch of Qisas movement on the same date. He said that if he is serious and has courage, he should not delay in starting the movement. He said that Nawaz Sharif remained in power for 26 years, he should tell what system of justice he introduced. He said that Nawaz Sharif did not even utter a single word of sympathy and regret on the martyrdom of 14 people either on the floor of Parliament or anywhere. 'He should be ashamed of mentioning justice in his speeches', he said.
In reply to a question, Dr Qadri said that he is asking everyone to keep warm clothes ready. He said that in order to save the workers from rigours of heat, he has chosen the winter season. In reply to another question, he said that by briefing the Senate Committee of the Whole, Army Chief gave a message that army as an institution is also answerable. He said that it is a strong rebuttal of the undue criticism heaped on military for intervening in others' affairs.
During the press conference, Dr Tahir-ul-Qadri told that he has had telephonic contact with both Asif Ali Zardari and Imran Khan. He said that these contacts are not meant for political objectives but for the sake of humanity. He said that all political parties are together on the issue of Model Town tragedy.
Sheikh Rashid also called Dr Tahir-ul-Qadri and discussed with him current political situation in the country.