Civil Society, lawyers & traders support Dr Tahir-ul-Qadri for justice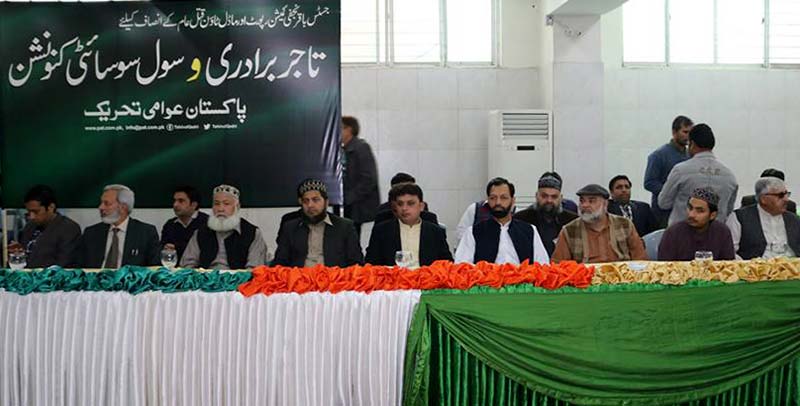 Representatives of civil society, traders' community and lawyers have announced to extend their support to Dr Tahir-ul-Qadri on his struggle to get justice for the families of the martyrs. In a meeting they held with the PAT Chairman the other day, they said that they stand by the affected families and stand shoulder to should with Dr Qadri whenever he gives a call. They said that Model Town tragedy is a blot on the face of a country that was achieved in the name of Islam. They said that this blot will only be washed when the perpetrators of the horrible crime are punished.
While addressing the meeting, Abdullah Malik Advocate, a human rights activist, said that those martyred in Model Town were not just workers of PAT but they were citizens of Pakistan as well. He said that getting them justice is an obligation of every citizen of Pakistan.
Senior columnist Salman Abid said that Baqar Najafi report is the result of struggle waged by Dr Tahir-ul-Qadri. He fought a long and hard war against the most powerful people and God willing, it is the oppressed who will have final victory.
Saadia Sohail Rana MPA said that PTI and Imran Khan are standing shoulder to shoulder with the PAT workers on the issue of justice for the oppressed. She said that we would continue to provide our support till justice is served. She said that Pakistan is protector of the weak and the oppressed.
Muhammad Aslam, leader of Pakistan Mazdoor Mahaz, said that in the fight between the oppressors and the oppressed, the latter will have a victory over the former. Ghulam Mohi-ud-Din Dewan, member of AJ&K Assembly, said that there is no parallel to oppression committed in Model Town. He said that exemplary punishment should be meted out to the perpetrators. He paid rich tributes to the PAT workers for their steadfastness.
Ansar Zahoor Butt said that Islam came to the world as supporter and protector of the weak. He said that if the oppressors were not questioned for their oppression, we will be asked on the Day of Judgment. Robina Shaheed Wattoo said that her father senior PPP leader Mian Manzoor Ahmad Wattoo and PPP are with the oppressed. Nazir Chohan, president of Qaumi Taajir Ittehad, said that the traders' community fully supports Dr Tahir-ul-Qadri in his struggle for justice.
Tariq Feroz, president of Anjman-e-Tajraan Lahore, said on the occasion that Pakistan cannot progress without justice. He said that Pakistan came into being for protection of the rights of the weak and marginalized communities. He said that bloodshed is unacceptable.
Wazir Ahmad Sahoo of Anjman Mazaaraeen said that Dr Tahir-ul-Qadri is an advocate of the weak and it is due to this relentless advocacy of the causes of the poor that the high and the mighty remain afraid of him. Fatima Malhi said that Model Town represents the worst human rights violation. He said that on the unfortunate day of June 17, the humanity was butchered.
Those who spoke on the occasion included Ch Afzal Gujjar, Farooq Hameed, Pitras Barkat, Muhammad Ilyas of Blind Cricket Association, Khalid Khokhar, Dr Muhammad Ahsan, Sheikh Muneer, Najmi Saleem Sandhu, Shafique Raza Qadri, Kashif Adeeb Jawdani, Shabbir Sayyal, Amjad Shaheen Butt, Haroon Ghori, Haji Liaqat, and Sheikh Rehan.
Haji Muhammad Ishaq, Altaf Randhawa, Shahzad Rasool Qadri, Sajid Bhatti, Abdul Hafeez Ch, Jawad Hamid, and Hafeez ur Rehman welcomed the guests on their arrival at the PAT Secretariat.