Maulana Ajmal Qadri calls on Dr Tahir-ul-Qadri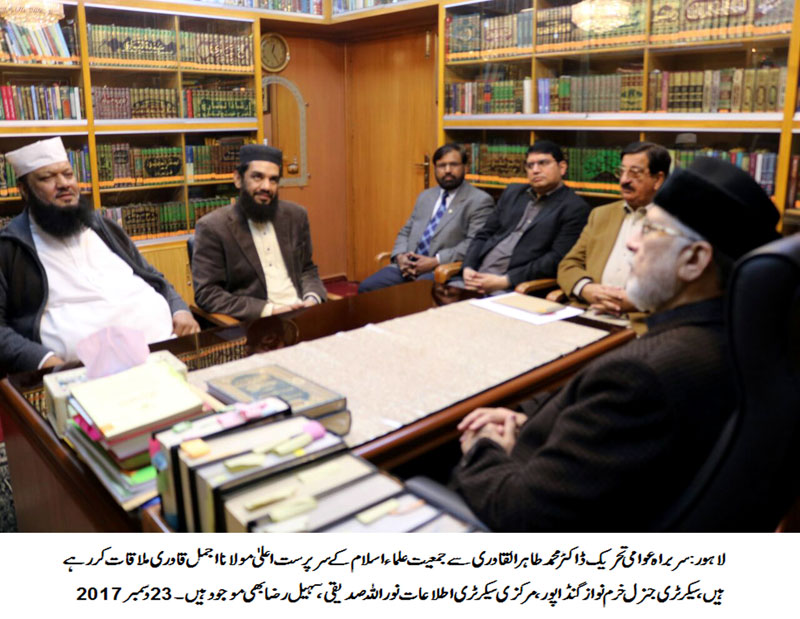 Maulana Ajmal Qadri, the patron-in-chief of Jamiat Ulama-e-Islam (JUI), called on Dr Muhammad Tahir-ul-Qadri at his residence yesterday. The matters related to Justice Baqar Najafi Commission report and current political situation in the country came under discussion.
Dr Qadri invited Maulana Ajmal Qadri to attend the APC on December 30 which he readily accepted. Assuring of his participation in the moot, Maulana Ajmal Qadri said that it is not a matter of politics but of the blood of innocent people and justice for the martyrs. He said that ensuring dispensation of justice to the bereaved families is the constitutional responsibilities of the state and its institutions. He said that it is a matter of serious concern that justice has not been provided to the families of the martyrs despite passive of three and half years.
Speaking on the occasion, Dr Tahir-ul-Qadri said that every segment of society and political leadership has demonstrated their solidarity with us which has served to raise our morale and boosted our confidence. He said that the perpetrators of Model Town tragedy will have to surrender themselves before law, adding that if the demand of resignation was not accepted by December 31, we will announce the final course of action. He said that we spent every single day of last three and half years with patience and in the shadow of the government's oppression but fought legal war with perseverance.
The PAT Chairman said that the whole system of the government is under the grip of the Sharif family and it is for this reason that we neither got copy of Justice Baqir Najafi Commission report nor the reports of the JITs are being provided now. He said that after the publication of the judicial commission report, individual commentaries do not have any importance. He said that whatever talk we will have now will be held in the light of the Najafi Commission report. He said that the report has held Shahbaz Sharif and Rana Sanaullah responsible for massacre and it is our demand that they should be meted out the same treatment as is done to the ordinary criminals. He said that the corrupt rulers have nothing to say in their defence and it is for this reason that they have taken refuge behind the government positions.
Meanwhile, PAT Chairman Dr Muhammad Tahir-ul-Qadri established telephonic contact with JUI-S head Maulana Sami-ul-Haq and invited him to participate in the APC.
According to the PAT Spokesperson, the date for APC has been changed in view of the engagement of leaders of some political parties. The Conference will now take place on December 30 instead of 28 December.