Imran Khan calls on Dr Tahir-ul-Qadri, mulls future course of action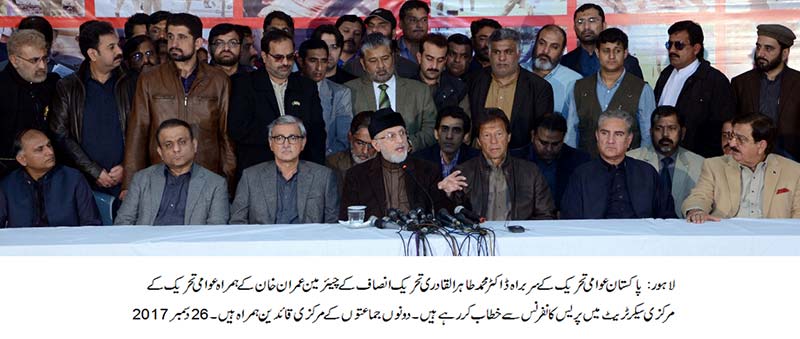 Addressing a joint press conference along with PTI Chairman Imran Khan, PAT Chairman Dr Muhammad Tahir-ul-Qadri has said that while the elder Sharif went home in Panama case, the younger brother will go home in Model Town case. He said that the nation should be informed on whose orders the police force of 45 police stations came for operation in Model Town, if not on those of the Chief Minister himself. He said that we would take the decision of protest in All-Parties Conference after thorough consultation on December 30. He welcomed Imran Khan and other leaders on their arrival at the PAT Secretariat.
In reply to a question, Dr Tahir-ul-Qadri said that it will be good if the government places his name on the ECL, adding that in that case all of his external engagements will automatically be cancelled.
Speaking on the occasion, Imran Khan reiterated the support of his entire party to the PAT and said that whatever line of action Dr sahib gives, we will stand by him. He said that Model Town tragedy is not a political issue but a humanitarian issue, stating that who belongs to what party is irrelevant here. He said that if the mafia had not been in power, we would have had decision in the Model Town case in a month's time. He said that the witnesses of the massacre are the people of Pakistan who saw the blood of innocent men and women being shed with their own eyes.
Dr Tahir-ul-Qadri said that neither does the military need to intervene nor will we make such a demand. He said that we will face the killers with the power of the people. He said that resignation of Shahbaz Sharif and Rana Sanaullah is a must for a fair and neutral investigation. He said that official evidence was recorded in the Najafi Commission report and despite this, both the Chief Minister and Law Minister were held responsible for tragedy. He said that there were 1300 documents enclosed with the Commission's report, which are not being provided to us.
The PAT Chairman said that Imran Khan and his entire party have been standing by the oppressed of Model Town right from day one. He said that the PTI and its leadership has fought the Model Town case as if it were their own case. He said that both parties have longstanding relationship, adding that we are expanding the canvas of mutual consultation. He said that a DIG, SP and DSP, who are involved in Model Town tragedy, continue to hold on to their positions. He said that none of the accused nominated in our FIR has been put behind the bars. He said that we have waited for justice patiently for last three and half years and after the publication of the Najafi report, the killers do not deserve any concession. He said that both Nawaz and Shahbaz Sharif should know that they would not get any pardon in this case.
Dr Tahir-ul-Qadri particularly thanked the central PTI leaders Jahangir Khan Tareen, Shah Mahmood Qureshi, Aun Chaudhry, Fawad Chaudhry, Shafqat Mahmood, Abdul Aleem Khan, Mian Aslam Iqbal and Ijaz Chaudhry who accompanied Imran Khan.
Dr Tahir-ul-Qadri, Khurram Nawaz Gandapur, Dr Hussain Mohi-ud-Din Qadri, Fayyaz Warraich, Brig. (r ) Muhammad Mushtaq, Noorullah Siddiqi, Sajid Bhatti, GM Malik, Jawad Hamid, Mian Rehan Maqbool and others warmly received the PTI delegation on their arrival at the central secretariat.
The leaders of both parties held a meeting in which they discussed the matters related to Najafi Commission report, the agenda of the upcoming APC and the future course of action.
Imran Khan stated categorically that whatever strategy Dr Qadri decides on, PTI will fully and actively support him. He said that he has brought the whole party leadership with him, adding that it is the matter of human rights and justice. He said that the whole nation supports the oppressed in the Model Town case. He said that electoral or political alliance did not figure in the discussions. He asked what kind of democracy it is in which 100 people are shot at with live bullets in broad daylight and no justice is provided. He said that it is the police of the Sharif family that gives protection to the mafia. He said that the whole nation saw with their own eyes as to what happened in Model Town. He said that those killed on June 17 were not just PAT workers, they were Pakistanis as well.
Imran Khan further said that the father of Ishaq Dar owned a shop of bicycles and today Dar has become multi-billionaire. He said that they made their own children billionaires. They are no politician but a mafia. He said that it is ironic that those who were born and bred in the lap of military have the gall to give lectures on democracy. He said that the Sharif brothers committed brutality to teach a lesson to Dr Tahir-ul-Qadri. He said that if a protest is carried out against their corruption and loot, they say that the journey of progress has been halted, whereas they consider their own protest to be legitimate. He said that they behave like a mafia and follow its template: when you get caught, you make a noise and try to throw dust in the eyes of the people. He said that they are angry as to why the establishment is not giving them help on their being caught. He said neither does Mehran Bank case open against the 'blue-eyed' nor do the NAB cases.
The PTI Chairman said that we are waiting for the start of Nawaz Sharif's protest campaign and those who have been exploited by them will receive him. He said that they cannot demonstrate the courage to launch a movement. He said that both Punjab Chief Minister and Law Minister have no option but to surrender themselves to law.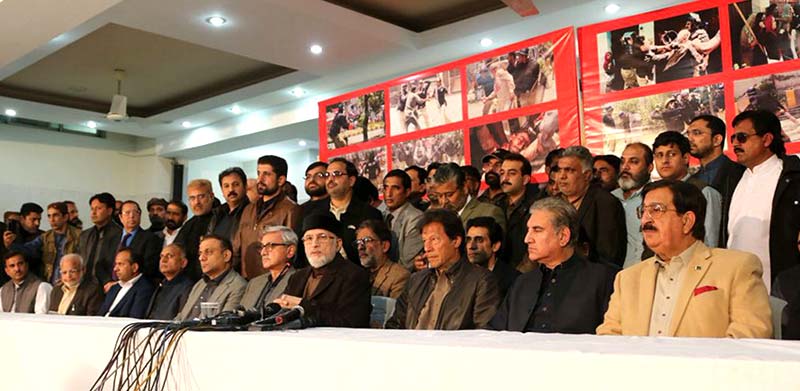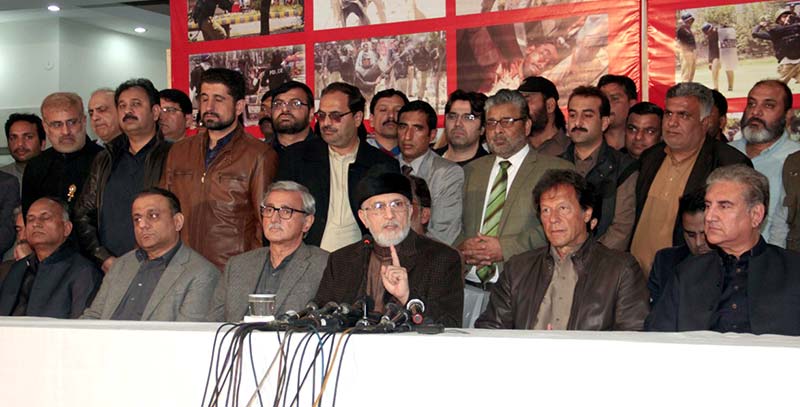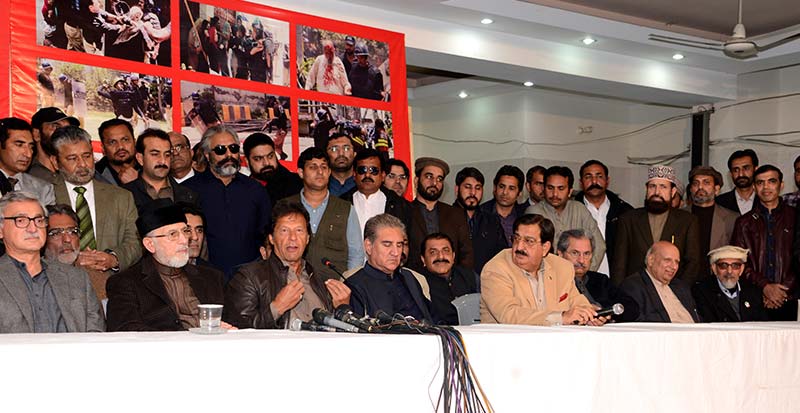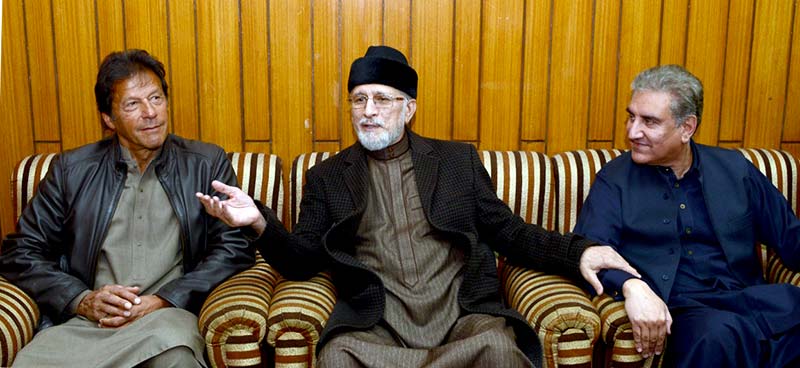 Facebook