Asif Zardari & Dr Tahir-ul-Qadri hold detailed one-on-one meeting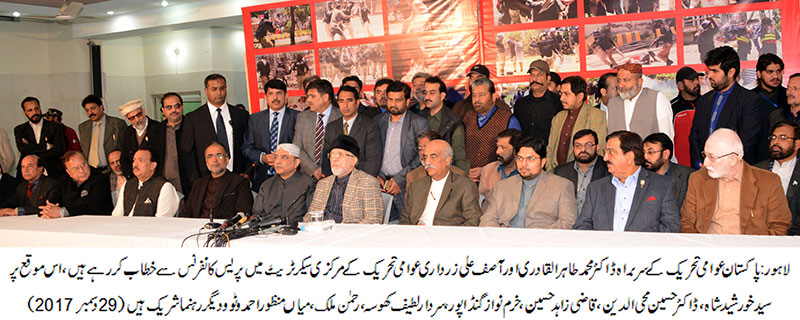 PAT Chairman Dr Muhammad Tahir-ul-Qadri and PPP Co-chairman Asif Ali Zardari held a long one-on-one meeting today in which matters related to the agenda of tomorrow's APC, justice for the martyrs of Model Town and the future of course of action came under discussion. Prior to one-on-one meeting, the delegations of the PAT and PPP met wherein legal issues regarding the Model Town case were discussed. Dr Qadri briefed the meeting about the legal issues of the case.
Both leaders spoke to media after the meeting. Dr Tahir-ul-Qadri thanked Asif Zardari and senior PPP leaders for visiting the central secretariat of PAT the second time within days. He said that it is a matter of pleasure that there is a complete unanimity of views between Asif Zardari and him on matters related to the Model Town case and the future political approach. He said that the PPP has extended complete support to PAT on the issue of Model Town tragedy right from day one. He said that after publication of Justice Najfi report, all political forces of the country have given complete moral support to the PAT, adding that these political parties will be with us during the next phase of political struggle. He said that the APC will discuss all issues and the next line of action will be decided through unanimity and consultation.
Pakistan Peoples Party has stood by us on #ModelTown massacre right from day one. After publication of the Najafi report, all political parties have extended us complete moral support. These parties will be with us in the future line of action. pic.twitter.com/zDScTzX9AY

— Dr Tahir-ul-Qadri (@TahirulQadri) December 29, 2017
Speaking on the occasion, Asif Zardari said that both Punjab Chief Minister and Law Minister will have to resign. He said that this incident of terrorism and bloodshed did not take place in any remote village but in the heart of Lahore where police continued to shower bullets on the innocent and unarmed citizens for hours. He asked how it could be possible that the chief executive of the province was clueless about the unfolding tragedy, while the horrible scenes of massacre were being beamed across the world on TV screens.
Asif Zardari said that Shehbaz Sharif as Chief Minister and Rana Sanaullah as Law Minister are influencing the process of investigation and justice, adding that there is no hope of justice being done as long as they continue to hold on to their positions. He said that they will have to step down. He further stated that the oppressed will get justice tomorrow, if not today. He said that both should be proceeded against under Clause 302. He said that his party and he stand by Dr Qadri's stand and position. He said that the lives of 100 people were destroyed in Model Town on June 17. He said that we can pray for the souls of those who were martyred but the lives of those who were disabled and maimed for life are living tragedies. He said that we need to stand by them in the form of relentless struggle for provision of justice on the gross barbarism committed against them. We have to take care of the orphans and widows. He said that the PPP has always stood with the weak and the oppressed sections of society and raised our voice. He said that PPP will extend its complete support to whatever decision the APC takes tomorrow. He said that he has very old relationship with Dr Tahir-ul-Qadri.
In reply to a question, Asif Zardari said that Nawaz Sharif is desperate and is making every possible effort to save his wealth and get away with the legal cases. He, however, added in the same breath that we would not let this joke to continue this time round. He said that Saudi Arabia has not come to their rescue this time and it is they who are making last ditch efforts for some kind of relief.
In reply to another question, the former President said that he would have benefitted from the martyrdom of Benazir Bhutto Shaheed, had he centralized and usurped the powers of all institutions in his office particularly those of Parliament. He said that even an SHO does not surrender his powers here, stating that he devolved powers to the provinces and made Parliament powerful.
To another question, Asif Zardari said that his policy of reconciliation was for the sake of democracy and parliament. He said that Nawaz Sharif shows a disdain for Parliament, makes the country hugely indebted, usurps people's rights and becomes a dictator, how could the people of Pakistan bear his standing by him? He further said that whenever Nawaz Sharif says that he has become ideological, he qualifies it with the use of word 'now', stating that it is now that he claims to have become ideological.
In reply to a question, Dr Tahir-ul-Qadri said that Saudi Arabia will not get them a new NRO this time round. He said that we are an independent and sovereign country. He said that we are not slave of anyone that we accept their diktats. He said that those who said in the past that political matters should not go to the courts of law have now gone to the foreign countries for favors, adding that they should be ashamed of their contradictory behavior.
Opposition leader Syed Khursheed Shah also spoke on the occasion and said that Dr Tahir-ul-Qadri waged a long, hard and arduous struggle for justice in the Model Town case. He said that the publication of Justice Baqar Najafi's report is the result of his efforts. He said that the oppressed should get justice in every case and we would not settle on anything less than that. He said that there are FIRs of murders against Shehbaz Sharif and Rana Sanaullah, therefore, it is important that justice is not only done but also seen to be done. He said that whatever decision APC takes tomorrow, PPP will support it wholly.
Asif Ali Zardari invited Dr Tahir-ul-Qadri to visit Bilawal House which the latter accepted.
Syed Khursheed Shah, Senator Rehman Malik, Qamar Zaman Kaira, Sardar Latif Khosa, Manzoor Wattoo, Dr Qayyum Soomro, and Naveed Chaudhry accompanied Asif Ali Zardari.
Dr Tahir-ul-Qadri was assisted by Dr Hussain Mohi-ud-Din Qadri, Qazi Zahid Hussain, Khurram Nawaz Gandapur, Fayyaz Warraich, Makhdoom Nadeem Hashmi, Noorullah Siddiqi, Sajid Bhatti, Jawad Hamid, Raja Zahid Mahmood and Chaudhry Sharif.