1st World Islamic Economics & Finance Conference under Minhaj University Lahore
Dr Tahir-ul-Qadri highlights growth potential of Islamic banking at an International Conference under MUL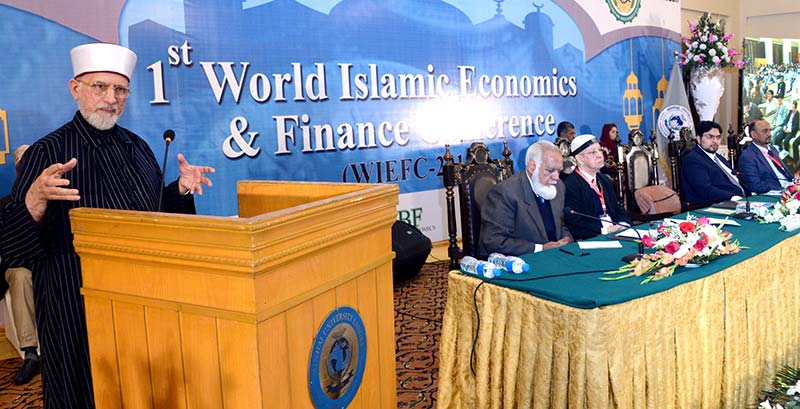 Dr Muhammad Tahir-ul-Qadri, the chairman of Board of Governors of Minhaj University Lahore and patron-in-chief of Minhaj-ul-Quran International, addressed the 1st World Islamic Economics & Finance Conference held at a local hotel under the banner of Minhaj University Lahore (MUL). He said that the Islamic banking sector has been expanding in the world and the monetary size of this sector has crossed $ 1 trillion with an average growth rate of 15% to 20% per annum. He said that Pakistan is one of the countries where this sector is progressing fast. He said that if legal hurdles created in the way of this sector on the basis of jurisprudential interpretation by some schools of religious thought are removed, the sector has the potential to register faster growth and achieve expansion in the shortest possible time. He said that there is no second opinion about vibrancy and robustness about the Islamic banking sector to play its role in the global economy.
Dr Tahir-ul-Qadri spelled out a principle for the fast-paced growth of the Islamic banking sector. He said that a global Shariah Guidance Authority consisting of religious scholars belonging to all schools of thought should be constituted to present guidelines to the banking sector with an aim to address the problems at the intellectual level. He said that such an Authority should be evenly represented by scholars of all schools of thought and no single scholar/school of thought should have the authority to veto any banking product or service. He said that different views/decisions in different situations are the biggest cause of the jurisprudential difference of opinion. He said that the Islamic world needs to establish international economic profile on solid and stable economic footing at this point in time.
Dr Tahir-ul-Qadri further stated that the Islamic banking sector is under the influence of different schools of thought, adding that fatwa councils, and regional councils regulate this sector and make rules for its operations and the regional Islamic banks follow the same guidelines, which vary in different countries. He said that the rules determined by one school of thought are not acceptable to the banking sector in different parts of the world. He stressed the need of addressing this situation and termed it as the biggest hurdle in the way of its progress. He said that disparity of every kind in the rules for the Islamic banking sector should be done away with and there should be complete uniformity and harmony between regional and international standards.
Dr Qadri suggested that the economic experts and scholars of different schools of thought should pool their resources intellectually. He said that Islamic banking sector can play a lead role in terms of interest-free banking. He further underlined that the Muslim scholars need to equip themselves with contemporary demands. He stated that one reason that explained Islam's ascendancy in different spheres for centuries was this very aspect of change and evolution in line with the imperatives of time. He said that Islamic scholars of medieval and Middle Ages used to be expert in both religious and worldly sciences and it was the result of their academic pursuits and excellence that Islam was acknowledged and accepted as a dynamic system of life capable of offering fresh insights into the problems facing the humanity.
The 1st World Islamic Economics & Finance Conference, the unique event and the first of its kind held by Minhaj University Lahore, was attended by internationally acclaimed economic experts from Australia, UAE, America, UK, Indonesia, Malaysia and Saudi Arabia. Dr Tahir-ul-Qadri presided over the Conference. The co-chairs of the Conference were Dr Hussain Mohi-ud-Din Qadri and Dr Muhammad Ishaq Bhatti. Prof. Dr. Muhammad Aslam Ghauri, Vice Chancellor of Minhaj University Lahore, presented the welcome address on the first day of the Conference. A documentary regarding the educational sector was shown on the occasion.
International scholars and experts, Dr Muhammad Masood-ul-Alam Chaudhry, Prof Dr Muhammad Arif, Prof Dr Kabir Hassan, Prof Dr Masoom Billah, Prof Dr Ishaq Bhatti, Prof Humayon Dar, Dr Muhammad Zul Khabri, Dr Najam Abbas, Prof Dr Paul Dawson, and Prof Dr Nasim Sherzi delivered lectures in the Conference. More than 500 people belonging to different walks of life including traders' community, academia, and senior students of Minhaj and other private sector universities attended the Conference. The topic given to the guest scholars for the final sessions to be held on January 4 is titled as "Developing Economy of Islam with Islamic Finance".
Speaking on the occasion, Dr Hussain Mohi-ud-Din Qadri, deputy chairman Board of Governors of Minhaj University Lahore, said that MUL has laid the foundation of an international dialogue to address the economic challenges facing the Islamic world. He said that this second international moot comes after the successful conduct of the two-day international counter-terrorism and de-radicalization conference that was hosted by Minhaj University Lahore. He said that the Islamic world that is flowing with resources and natural wealth can become a huge stakeholder in the international economy by implementing the universal economic principles. He said that this way it can also overcome the crises of poverty, backwardness, and unemployment that are impeding its development.
Dr Hussain Mohi-ud-Din Qadri said that Islamic banking sector is like a backbone for micro economy. He said that bright prospects for development should not fall victim to regionalism.