Two-day 1st World Islamic Economics & Finance Conference concludes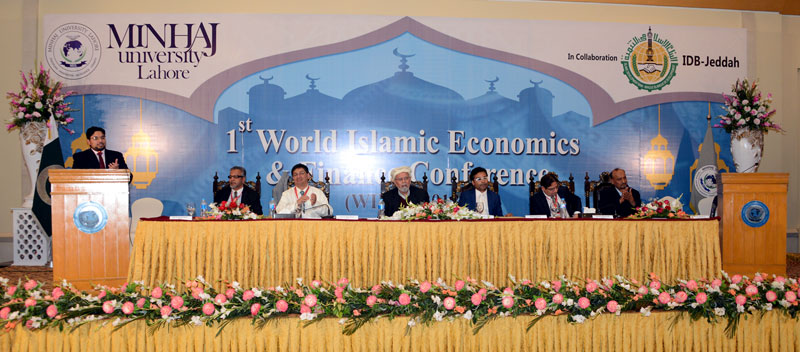 The two-day 1st World Islamic Economics & Finance Conference concluded here on January 4. Dr Hussain Mohi-ud-Din Qadri, deputy chairman Board of Governors of Minhaj University Lahore (MUL), delivered his concluding address on the occasion. He said that religious scholars need to put their heads together to formulate consensus-based religious laws for promotion of the Islamic banking.
The Conference approved a six-point resolution and decided that a working group under the headship of Dr Muhammad Tahir-ul-Qadri will be set up with a mandate to work out recommendations for consensus-based religious laws. The participants of the Conference also agreed to produce informative literature to develop Islamic economy and frame uniform religious rules and regulations with a view to educate the public opinion. The resolution further stated that the private sector, forums and business bodies should be also be included in the process of framing recommendations. The Conference also agreed to create a communication network that will be responsible for constant supply of information till the requisite objectives are achieved.
The resolution further vowed that the institutions of higher learning will be engaged with a view to prepare educational curriculum for promotion of the banking and finance.
Dr Hussain Mohi-ud-Din Qadri presented a proposal in the form of resolution that an Islamic Chamber of Commerce and Industry should be established that should play its role for creation of linkages between academia and industry and for the transfer of technology for fast-paced economic progress.
The proposal to create a joint working group under the headship of Dr Tahir-ul-Qadri was widely hailed. The participants raised their hands to say yes to the suggestion. It is pertinent to mention here that during his keynote inaugural address to the Conference, Dr Tahir-ul-Qadri mooted the proposal of discarding local fatwa councils by replacing them with global Shariah Finance Authority with a view to promoting the Islamic banking sector in the world.
The participants of the Conference also agreed that the working group will work with the State Bank of Pakistan to finalise an effective action plan in terms of formulating consensual religious rules. The sole objective to be pursued by this group is to formulate laws and rules for banking products that are acceptable everywhere without any discrimination.
Different guest speakers from Indonesia, USA, Malaysia, UK, and U.A.E addressed the Conference on its concluding day. Dr Hussain Mohi-ud-Din Qadri expressed his heart-felt gratitude to the visiting scholars for coming all the way to Lahore to attend the Conference. Dr Muhammad Tahir-ul-Qadri congratulated the organizers on holding a successful international conference on Islamic banking.