Dr Tahir-ul-Qadri leads 'Justice for Zainab' March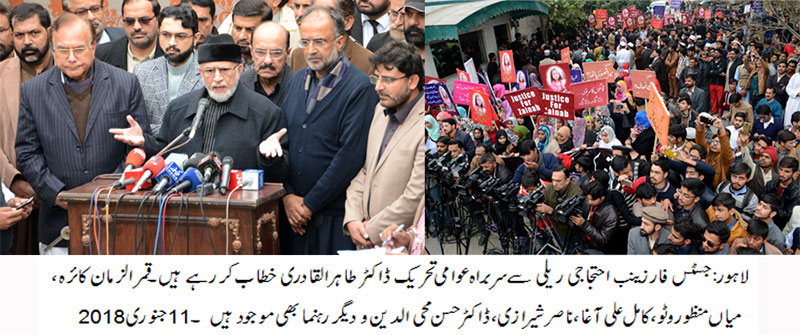 Leading a march under the theme of 'Justice For Zainab' launched by male and female students of different schools, PAT Chairman Dr Muhammad Tahir-ul-Qadri said that if the grave crimes are to uprooted, then Shahbaz Sharif and Rana Sanaullah will have to be made OSD and summoned to the courts. He said that the order to fire is given by an office of SP and DSP rank and Shehbaz Sharif only puts a price on the dead bodies. He said that he went to Kasur with Rs. 3 million for each dead body, adding that the rulers do not have the courage to go to Kasur in the broad day-light. He said that when the rulers cannot face the public, it is time they stepped down from their high offices. He prayed to the Chief Justice of Lahore High Court to call the FIR of the Kasur tragedy, none would have been nominated in it. He said that the matter will come to an end due to flawed and weak FIR in a short span of time. 'That is their standard operating procedure', he said.
Sheikh Rashid Ahmad, Qamar Zaman Kaira, Mian Manzoor Ahmad Watto, Kamil Ali Agha, Nasir Sherazi, Khurram Nawaz Gandapur, Dr Hassan Mohi-ud-Din Qadri, Dr Hussain Mohi-ud-Din Qadri, Ch Fayyaz Warraich and other leaders attended the march of children. They took out the march from the international market to the secretariat of PAT and chanted passionate slogans for justice for the slain Zainab. They also raised slogans about the government saying that it did not deserve to stay in office.
At the end of march, Sheikh Rashid also addressed the gathering and said that time has come that march is taken to the Jati Umra. He said that had the killers of Model Town been put on trial, the Kasur tragedy would not have taken place.
Qamar Zaman Kaira, while talking to media, said that we would stage protest during the martial laws. We would baton-charge and get baton-charged during the processions but there was no question of firing at the protesters back then. He said that brutality to fire directly at the people started during the Sharif government. He said that we would get justice for the Model Town martyrs, Zainb and those who lost their lives in the police brutality in Kasur. He said that we would not let the oppressive government be run.
Senator Kamil Ali Agha said that the people were shot dead in 2014 in order to stop Dr Tahir-ul-Qadri to go to Islamabad and the innocent protesters were killed in Kasur to preempt the demonstration drive starting from January 17. He said that we are thankful to the Chief Justices of the Supreme Court and Lahore High Court for taking notices of the Zainab murder case.
Mian Manzoor Ahmad Watto said on the occasion that the societies that do not believe in Allah and His Prophet (SAW), even there people are not shot at directly. He said that Nawaz Sharif and Shahbaz Sharif have come under the Divine accountability and no one will be able to save them now.
Nasir Sherazi said that we will have to decide if every Zainab of the nation is to be saved, then this brute government will have to be sent packing.
Winding up the march, Dr Tahir-ul-Qari further said that such heinous crimes with children took place in Bhalwal and Faisalabad and the government ministers say that such incidents have been happening for last many years. He said that it is the height of brutality. He said media has exposed this brutality and it is for this reason that they are venting out their ire on it. He said that no one mentions the name of who ordered the firing of live bullets. He said that Justice Baqir Najfi wrote in the Model Town report that he asked each and every person whose statement he recorded as to who gave the orders of firing but none of them spoke up. He said that we are of the view that the order came from high above and who else occupied the coveted positions than Nawaz Sharif and Shehbaz Sharif?