Protest on Jan 17 will be wholly peaceful: Dr Tahir-ul-Qadri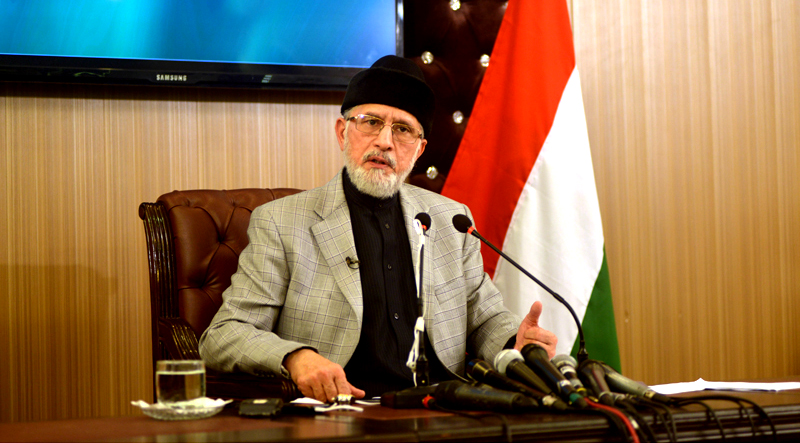 PAT Chairman Dr Muhammad Tahir-ul-Qadri has said that he has had a word with Imran Khan Asif Ali Zardari and both of them will be together for the achievement of the shared objective. He said that he is very hopeful that the leadership of all political parties will address the protest demonstration on January 17. He said that the announcement of the next course of action after January 17 will be made with complete ownership, stating that the meeting of the APC Action Committee will be held on January 16 in which important decisions will be taken. He said that Justice Baqir Najafi held Shehbaz Sharif and Rana Sanaullah responsible for Model Town tragedy.
Dr Tahir-ul-Qadri stated this while talking to the party leaders yesterday. He also rang up MNA Jamshed Dasti and expressed his condolences to him on the death of his sister.
The PAT Chairman stated categorically that we have never committed an act that might have breached peace. He said that the protest will be wholly peaceful aimed at getting justice for the Model Town martyrs. He, however, added in the same breath that if the use of force was done against us, we have not worn bangles. He said that we would respond if forced to do so, stating that we are not alone in our struggle. Other political parties are also supporting us.
Dr Tahir-ul-Qadri said that by announcing to become Sheikh Mujib-ur-Rehman, Nawaz Sharif has accepted him as his ideological leader and stated that he would become part of the process of breaking up the country. He said and the message being sent by NS is that if anyone is capable enough, he/she should stop him from doing it. He said that those entertaining such unholy notions about the country will be decimated themselves and they would go to gallows under the system designed by them.
The PAT leader said that the SC judges likened them to 'godfathers' and Sicilian mafia in the Panama judgment but stated that in his view that they were much more than their description. He said that both godfather and Sicilian mafia could not get to have governments in Italy and Sicily respectively but Nawaz Sharif and Co have run this country for well over three decades. He said had godfathers and the Siclian mafia been alive today, they would have chosen to be their students.
Dr Tahir-ul-Qadri said that the system formed by them has robbed women of their dignity, made them widows, and made children orphans and it is under this system that they will be punished. He said that even the top judges of the apex court were forced to say that the outdated and obsolete laws of 1860s are a hurdle in the way of dispensation of justice. He said that legislation is the job of the Parliament, stating that Parliament wasted no time in passing person-specific legislation in favor of a corrupt family and its ousted leader. He said that had the provision of justice been the top priority of the government, it would have enacted laws for this purpose. He said that the rule of the elite is taking its last breath.