January 17 marks the beginning of last round of protest: Dr Tahir-ul-Qadri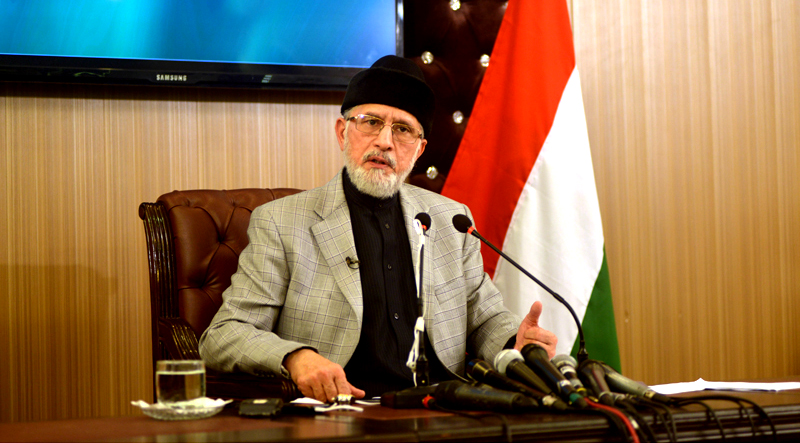 PAT Chairman Dr Muhammad Tahir-ul-Qadri has said that the last round of protest is getting underway from January 17. He said that had there been anything called a system, those responsible for perpetrating Model Town tragedy would have been held accountable for their crimes. He said that the Chief Justice made startling revelations wherein he stated that Pakistan cannot be run with 150-year old laws. The legal structure put in place in 1860 was not wholly done away with because of its ability to throw up massive opportunities for loot and plunder.
Dr Tahir-ul-Qadri made these remarks while talking to the senior party leaders yesterday. He said that it has been three decades since we have been highlighting the hollowness of the system. He said that it is a matter of pleasure now that those holding responsible positions are also speaking out against the exploitative behaviors. He said that it is his prayer that the country is rid of the corrupt and exploitative system and laws as early as possible. He said that had the Parliament done its part of the duty and strengthened institutions at the place of individuals, the country would not have been in the kind of mess it finds itself bogged down today. He said that if such administrative functions such as injection for buffalos, contaminated water, spurious drugs, adulterated food and educational problems are to be addressed by the judiciary, what purpose are the rulers for except loot and plunder?
The PAT Chairman said that when the governments and assemblies would not do their part of the duty, someone else would come to do the work. He said whether it is Nawaz Sharif or Shehbaz Sharif, both of them are not supporter of democracy. They joined politics for the worldwide promotion and spread of their business empire, adding that the purpose for which they came to power, they accomplished it on daily basis. He said that if Pakistan is to be saved, then the corrupt system and the exploiters will have to be sent home. He said that by sending the government home does not mean the end of democracy. Rather it is meant to put an end to the system of loot and plunder and the civilian authoritarianism.
Dr Qadri said that PAT is fully ready for the protest demonstration on January 17. He said that all political forces will be on the same page and stage to get justice for the martyrs of Model Town tragedy. He said that the protest on Wednesday will be attended by political workers of all parties and they will be like flowers in a bouquet, stating that they should extend respect to each other and be courteous. He said that the end of the rule of the elite is not a matter of months but of days.