Nation on the same page for end of Sharif Raj: Dr Tahir-ul-Qadri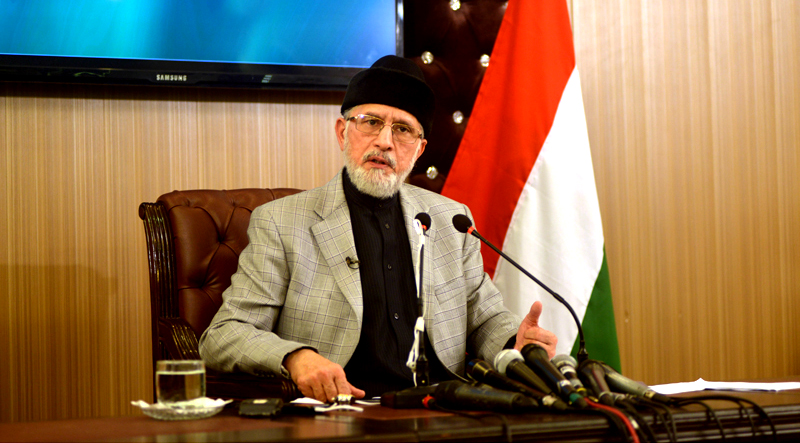 PAT leader Dr Tahir-ul-Qadri has welcomed the announcement of Imran Khan and Asif Zardari to participate in the protest demonstration on January 17 on The Mall. He said that all segments of society should attend the protest to end oppression and exploitation and injustice. He said that now the movement aimed at ridding the country of the corrupt and killers will be launched and those responsible for killing innocent people will reach their logical end.
Dr Tahir-ul-Qadri stated this while talking to the senior party leaders yesterday. Khurram Nawaz Gandapur, Brig (r ) Muhammad Mushtaq, Chaudhry Fayyaz Warraich, Noorullah Siddiqi, Jawad Hamid and others were present on the occasion. He said that the police does what it is ordered to do. He said that the Punjab police has become a private militia of the rulers and has been eliminating political opponents at the behest of the Chief Ministers, Ministers and the MNAs/MPAs. He said that the people are at the mercy of looters, killers and robbers.
Dr Qadri said that the protest demonstration called by the APC will also be attended by farmers, clerks and workers who have been wronged by this government. He said that the lawyers and young doctors will also extend their support to the oppressed. He said that the people have come on the same page for elimination of the 'Sharif Raj'. He said that the rulers increased the amount of oppression because the people continued to put up with it, adding that it is characteristic of oppression that the more it is borne, the greater it is. He said that the killer police that has been quenching its thirst with blood of the people is the only gift of the Sharif junior during his 10-year stint in office. He said that the days of the Sharif Raj have been numbered.
The PAT leader asked Shahbaz Sharif to look inwardly as to why he could not face the public in broad daylight despite his ten years in office. He said that the hour of accountability has arrived and no wealth or tactic of the rulers will stand them in good stead.
Khurram Nawaz Gandapur presented a report regarding contacts with the party organizations. He said that there is a massive excitement among the workers who are eager to be part of the protest movement to get rid of the rulers.