People take to streets when justice is denied: Dr Tahir-ul-Qadri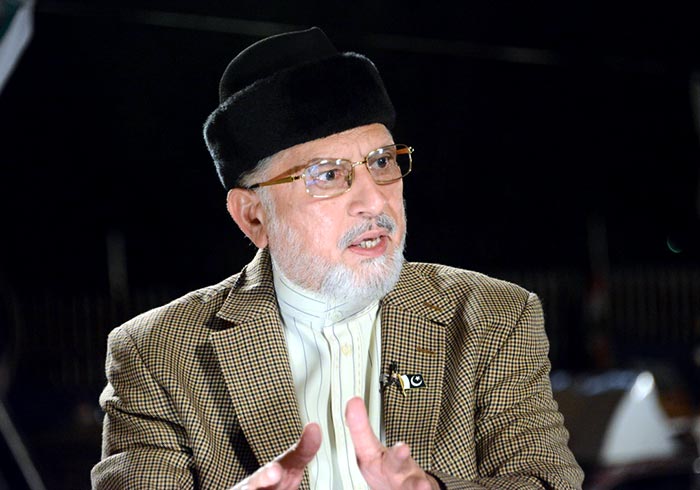 PAT leader Dr Muhammad Tahir-ul-Qadri has said that we did not abandon the legal path even for a moment to seek justice for the martyrs of Model Town. He said that the private complaint was accepted in February 2017 after presentation of evidence for one year and 125 accused including IG police were summoned. He said that no one has been indicted so far despite passage of one more year. He said that he is grateful to all political parties for their support on the demand of resignation of the Punjab Chief Minister. He said that the provision of justice should be started with Model Town tragedy.
Dr Tahir-ul-Qadri said this while talking to the lawyers belonging to PAT yesterday. The lawyers gave a presentation about the progress on the Model Town case. Khurram Nawaz Gandapur, Naeem-ud-Din Chaudhry Advocate, Jawad Hamid, Shakeel Mumka Advocate and others were present on the occasion.
Dr Qadri said that the people take to streets when they do not get justice. He said that both friends and foes are aware of our strength and we will remove this misunderstanding of the killer mafia if such a need arises. He said that our workers do not need more than 24 hours for preparation. He said that we have already resorted to the Lahore High Court for summoning Nawaz Sharif, Shahbaz Sharif and other accomplices and will go to any extent to ensure their summons by the court of law. He said that both Sharif brothers are the major hurdle in the way of dispensation of justice in the Model Town case, adding that we would not get any justice till their removal from the government positions.
The PAT leader said that the names of Shahbaz Sharif and Rana Sanaullah are mentioned in the Justice Najfi Commission. He said that a fresh investigation is required to summon them and determine their role but added in the same breath that as long as this mafia is in power, the constitution of a neutral JIT and fair investigation is not possible. He said that the future course of action will be announced soon. He said that all political parties have unanimously affirmed that Shabbaz Sharif is responsible for the Model Town massacre and he along with his minions will be brought to justice.
Dr Tahir-ul-Qadri directed the legal team to further speed up their legal struggle and said that the cruel rulers will not be able to escape their end. He said that the so-called Khadim-e-Ala rubbed the salt in the wounds of the grieving father when he led the whole hall in clapping. He said that the mother of Zainab rightly stated that they had a reason to celebrate had the girl reached home safe and sound.
Meanwhile Dr Tahir-ul-Qadri called Sheikh Rashid Ahmad and inquired after his health. He also prayed for early recovery of the head of AML.