Shehbaz Sharif & Rana Sanaullah behind every big crime: Dr Tahir-ul-Qadri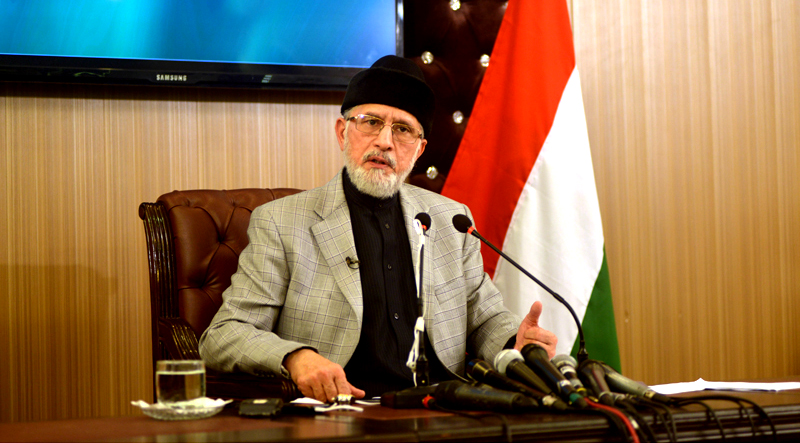 PAT Chairman Dr Muhammad Tahir-ul-Qadri said that it is the Chief Minister Punjab and his law minister who happen to be behind every big crime. He said that no big crime can take place without their patronage. He said that if they are arrested and subjected to polygraphic tests, they will divulge the names and details of the leading criminals.
Dr Tahir-ul-Qadri stated this while talking to the senior party leaders yesterday. He said that Shehbaz Sharif holds press conferences to change the direction of the major cases, stating that he also tried to deviate the attention of the people in the Kasur scandal. He said that startling revelations are coming out about the cruel culprit involved in the Zainab murder case. He said that he alone is not party to such crimes, adding that a big network seems to be operating. He said that the sick culprit was arrested a number of times but was released by police. He said that Shehbaz Sharif did not mention this gang even distantly in his presser despite the fact that neutral circles are clearly hinting at the possibility of such a group of perverts.
The PAT Chairman said that both Shehbaz Sharif and Rana Sanaullah should be dismissed from public positions and a then a neutral JIT should be constituted on the Model Town and Kasur tragedies, adding that the reality will come to the fore in that way. He said that if the Chief Justice wants to expose the culprits and real story behind the Kasur ignominy, then Shehbaz Sharif and his police should be de-linked from the investigation process, otherwise they would not allow the access to the real criminals.
Dr Qadri said that the ruling political elite is pained by him because he always exposed their cruel face and took the people into confidence on their loot and plunder besides proving their role in the Model Town massacre. He said that they are now convinced that they are nearing their logical end from the legal point of view as well. He said that after ordering the release of Justice Najafi Commission report, Shehbaz Sharif has lost his sense of balance. He further said that we would not rest till the characters involved in Model Town case reach their end. He said that the Punjab Chief Minister should get ready for jail instead of the prime minister house.