Justice is sure to be provided in Model Town case: Dr Tahir-ul-Qadri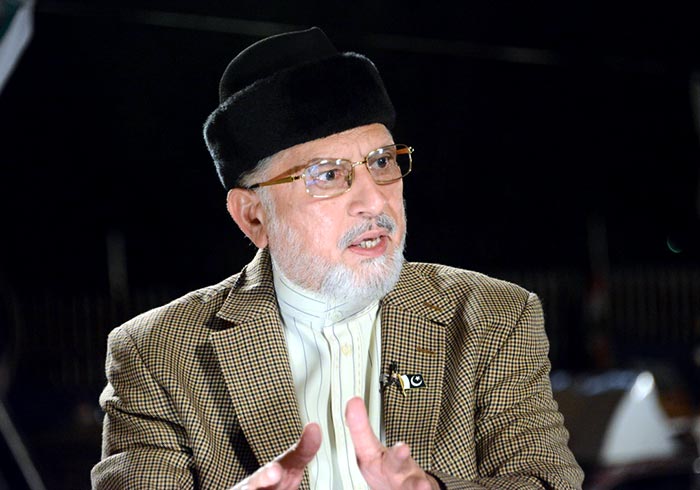 PAT leader Dr Muhammad Tahir-ul-Qadri has said that killer and corrupt mafia is staring the state institutions in the eye. He said that the policy of restraint and patience will weaken the foundations of the country. He said that it is not through statements but practical steps and supremacy of justice that the societies are set aright and made powerful. He said that those who killed innocent people and got disqualified on telling a lie are now declaring to contest the next election against the superior judiciary. He said that what else can be a greater insult inflicted on the Constitution, democracy and Parliament than this?
Dr Tahir-ul-Qadri said that Shehbaz Sharif should be summoned in the case of killing 14 people instead of financial embezzlement. He said that the sanctity of human blood is far more than the financial irregularities. He was speaking to the senior leaders of PAT yesterday.
Dr Qadri said that the all political parties who attended the APC were completely united on the Model Town issue. He said that all political parties have the right to have a difference of opinion on political matters and every party is free to give its point of view in line with its party constitution, and policy. However, Model Town incident is such a tragedy that has brought all political forces of the country together on the same page. He said that there is clarity that so far as the political mafia is in power, justice cannot be done. He said that those who did not allow the registration of the FIR will not allow the oppressed to get justice for their loved ones who were martyred in 2014.
The PAT Chairman said that Model Town tragedy is not an ordinary incident like the Railway accident in which the driver is being asked to tender resignation for his fault. He said that Nawaz Sharif and Shehbaz Sharif are directly involved in the tragedy and this fact has been testified by the Najfi Commission report. He said that it has been almost two years since our private complaint was accepted for hearing but none of the accused has been indicted so far. He said that the Shahbaz government sends one or two officers abroad on training one every hearing and it causes the case to keep delaying. He said that their days in power are numbered and justice will surely be done, adding that these happenings are written on the wall.