Those inviting Modi on family marriages can't be Kashmiris' well-wishers: PAT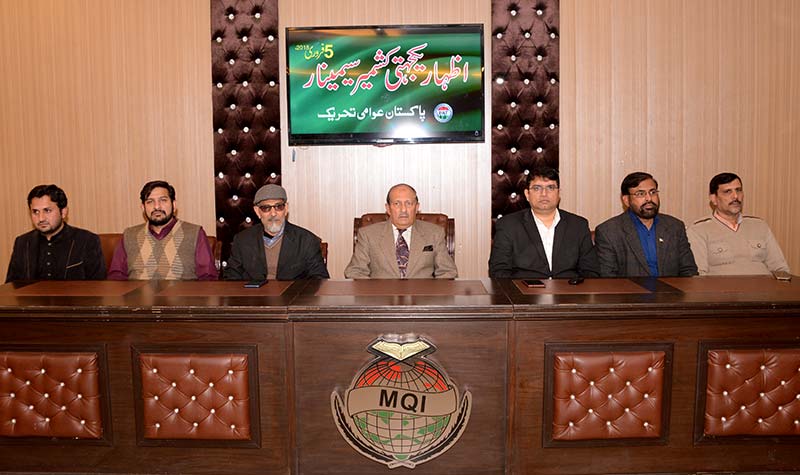 Pakistan Awami Tehreek organized a special ceremony on the occasion of the Kashmir Solidarity Day. Speaking on the occasion, senior PAT leader Brig (r ) Iqbal Ahmad said that no ruler after Ayub Khan showed any seriousness for resolution of the Kashmir dispute. He said that had General Gracey not betrayed the Kashmir cause, it would have been freed back then.
GM Malik, Noorullah Siddique, Sohail Ahmad Raza, Qazi Faiz-ul-Islam, Shahzad Rasool, Mazhar Alvi, Ch Irfan Yousaf, and Sheikh Aftab also addressed the ceremony.
GM Malik said that Nawaz Sharif, who was present in AJ&K on Feb 5, did not have the courage to condemn India by mentioning the name of Kulbhushan Jadhav. He said that those who invited Modi to attend family's marriage function cannot be well-wisher of the Kashmiris.
PAT Secretary Information Noorullah Sidddiqi said that on this day PAT reiterates its support to the Kashmir cause and holds that the right to self-determination is the internationally sanctioned right. He said that the longstanding Kashmir dispute should be resolved in line with the UN resolutions and aspirations of the Kashmiris. He said that according to the figures of the National Institute of Health Sciences USA, 41% citizens of the Occupied Kashmir suffer from depression and other related ailments and suicide cases have increased by 250 times since 1994. He asked as to what tragedy is the international community waiting for?
Sohail Ahmad Raza criticized the PML-N's policy towards the Kashmir issue. He said that the dispute was deleted from the national cause list and made a subject of ceremonial statements on particular occasions.
Shahzad Rasool Qadri said that the world community should take notice of the war crimes in the held Kashmir. He said that the human rights of the oppressed Kashmiris should be respected. He further demanded that the UN should send its fact finding mission in the occupied valley.
Qazi Faiz-ul-Islam said that when the honest Prime Minister is there, only he can play his role to get the Kashmir issue resolved. He said that the PML-N damaged the Kashmir cause in order to save its ill-gotten money.
Mazhar Mahmood Alvi and Chaudhry Irfan Yousaf also spoke on the occasion and said that the resolution of the Kashmir dispute is also the responsibility of Pakistan, UK and India in addition to the UN. They said that Kashmir is Pakistan's jugular vein and we will get it freed from the Indian occupation. They said that the path of peace and stability passed through Kashmir.