67th Birthday of Dr Tahir-ul-Qadri celebrated with fervor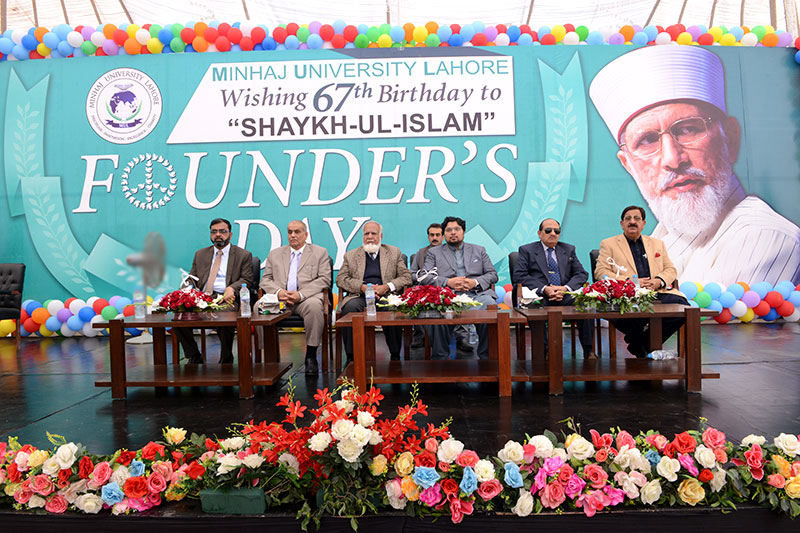 A special ceremony marking the 67th birthday of Chairman PAT Dr Muhammad Tahir-ul-Qadri was held in Minhaj University Lahore. Addressing the ceremony, Deputy Chairman Board of Governors, MUL, Dr Hussain Mohi-ud-Din Qadri said that the founding leader of MQI and Chairman PAT set up wonderful educational institutions for education and moral training of the succeeding generations. He said that he rendered exemplary services for promotion of peace and knowledge for the humanity. He said that after the 9/11, the western world tried to taint Islam with the scourge of terrorism and when the Muslims living in these societies were particularly targeted, it was Dr Tahir-ul-Qadri alone who came out with a mission to educate the west about original teachings of Islam and told them that Islam and Pakistan are proponent of peace and were victim of terrorism.
The birthday ceremony was attended by Vice Chancellor Minhaj University Lahore Prof. Dr. Muhammad Aslam Ghauri, Secretary General PAT Khurram Nawaz Gandapur, Brig (r) Iqbal Ahmad Khan, Col (r) Muhammad Ahmad, Col (r) Mubashir Iqbal, lecturers and professors of the University. Birthday cake was also cut at the conclusion of the ceremony. On this occasion, the speakers and the students paid rich tributes to Dr Tahir-ul-Qadri for his amazing scholarly services and contributions in several fields
Dr Hussain Mohid-ud-Din Qadri said that Dr Qadri did not limit himself to research work alone. Rather he set up several institutions for public welfare. The establishment of a huge educational network consisting of 650 institutions throughout the country is an abiding tribute to his visionary leadership. Orphan Care Home (Aghosh) offers boarding, lodging, and educational facilities to the orphan children whereas different welfare projects including provision of clean drinking water and scholarships to the deserving students were also launched under the umbrella of Minhaj Welfare Foundation.
Dr Hussain said that the first NGO that reached the persecuted Rohingya Muslims in Burma with food was MQI. He said that other signature projects of MWF are collective marriages, employment scheme, free medical camps, and ambulance service. He said that hundreds of thousands of the people are benefitting from the projects set up by Dr Tahir-ul-Qadri for well-being of the humanity. He said that Fatwa against terrorism and suicide bombing given by Dr Qadri is his abiding service to humanity.