Educating an orphan the best of deeds: Dr Hussain Mohi-ud-Din Qadri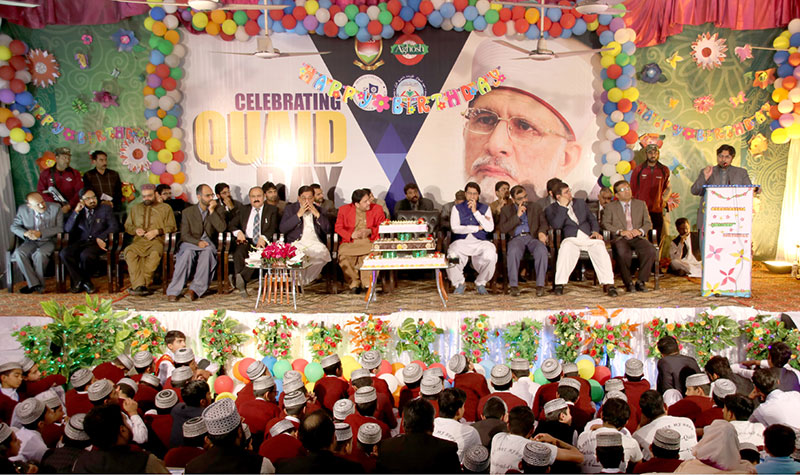 Addressing the Quaid Day ceremony organized by Aghosh Complex, Dr Hussain Mohi-ud-Din Qadri, President of MQI, has said that chaos and violence have increased in society due to neglect of the rights of the helpless children. He said that the Holy Prophet (SAW) described the provision of education, and good upbringing of the orphan as the best of acts. He said that the best way to express gratitude on Allah for His blessings is to take care of the orphans.
Naeem Mushtaq, Director Aghosh, briefed the President of MQI about the facilities being provided at the Centre. He said that quality boarding, lodging and educational facilities are being provided to hundreds of orphan children under the supervision of highly qualified teachers. He said that Dr Tahir-ul-Qadri established the Orphan Care Home in the wake of massive earthquake in 2005 to take care of the children orphaned in Azad Kashmir, stating today the children belonging to downtrodden families and the most backward areas of the country are getting excellent education and residential facilities at the Home. He said that Aghosh is providing education of the level of Grammar School.
PAT Secretary General Khurram Nawaz Gandapur, internationally known conductor of ceremonies Tasleem Sabri, Naat Khawan Shahbaz Qamar, Col (r) Mubashir Iqbal, GM Malik, Syed Amjad Ali Shah, Noorullah Siddiqi, Farah Naz, Shahid Latif, Imran Butt, Muhammad Amir, Rana Muhammad Farooq and students and teachers of Aghosh attended the ceremony. A birthday cake was cut on the occasion and tributes were presented to Dr Tahir-ul-Qadri for setting up Orphan Care Home for the most vulnerable sections of society.
Dr Hussain Mohi-ud-Din Qadri further said that Aghosh institutes have been established in Karachi and Sialkot after Lahore and stated that we would extend its scope to the rest of Pakistan. He quote a Hadith wherein the Holy Prophet (SAW) said: He who brings up two girls in an excellent manner will be close to me on the Day of Judgment in the same way as both fingers are intertwined. He (SAW) joined his both fingers to show the closeness. There is another Hadith that states that the best of homes is the one where an orphan lives and is treated well and the worst of homes is the one where an orphan is meted out shabby treatment.
Khurram Nawaz Gandapur said that Dr Tahir-ul-Qadri determined his future goals and objectives during his childhood and lived his life accordingly.