Grey-listing Pakistan despite sacrifices is regrettable: Dr Tahir-ul-Qadri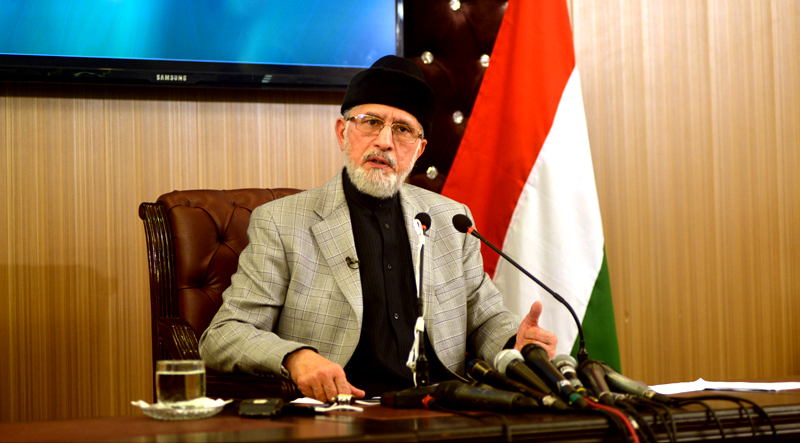 PAT Chairman Dr Muhammad Tahir-ul-Qadri has said that the threats to grey-list Pakistan hurled by Financial Action Task Force with an intent to finally put it on the black list of terrorism financing countries are regrettable and akin to making fun of a country that has rendered 70,000 sacrifices in the so-called war on terrorism and suffered huge economic losses. He said that instead of holding consultations to take up the code of conduct of judges and the NAB in parliament, the government should immediately convene a session of Parliament to discuss these threats.
Dr Tahir-ul-Qadri said that Pakistan suffered many 9/11s, thousands of citizens were martyred and maimed, and lost over hundred billion dollars in economic terms in the fight against terrorism. He said that successes achieved in Operation Zarb-e-Azb and Radd-ul-Fasaad are unparalleled, the magnitude of which have yet to be seen elsewhere, stating that as a result of these operations carried out by Pakistan military, the sleeper cells and networks of terrorists were eliminated. He stated that despite these many sacrifices, the effort to put the country in the watch list of terrorism financing countries is tantamount to defaming Pakistan.
The PAT Chairman said that the people of Pakistan are against all forms and manifestations of terrorism. He said whether it is Operation Zarb-e-Azb or Operation Radd-ul-Fasaad, the people stood by their armed forces in absolute unity. He said that it is a bitter reality that due to non-serious attitude of the political elite, the world is getting a chance to raise a finger at Pakistan and the country is being alleged to be sheltering the terrorists.
Dr Qadri said that the case of Pakistan being a peace loving country and having offered sacrifices in war against terrorism has not been fought diplomatically the way it should have. He said that it is a tragedy that the government of Pakistan is busy pleading the case of a corrupt ruling family and it is for this reason that the world is unable to recognize the critical role Pakistan has played in flushing out terrorism. He said that the session of Parliament should be convened immediately to discuss the war on terrorism and to see how far the provisions of the National Action Plan were implemented and where the failure lay.