Story of Nawaz Sharif is over: Dr Tahir-ul-Qadri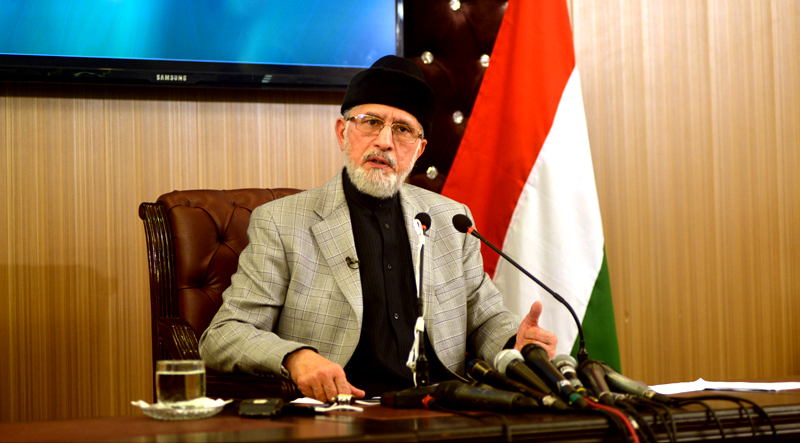 PAT Chairman Dr Muhammad Tahir-ul-Qadri has said that the ruling party expunged the words such as 'honesty' and 'truth' from the Constitution but it was the Chief Justice of Pakistan who restored them in historic verdict. He said that being student of law, he paid the CJP rich tributes on his excellent judgment. He said that handing down mere disqualification is not enough, stating that the acid test for the institutions of accountability and justice is to bring the looted money and assets stashed abroad back home. He said that the story of Nawaz Sharif is over and the next turn is that of Sharif junior. He said that the blood of the innocent people that was shed in Model Town awaits justice.
Dr Tahir-ul-Qadri made these remarks while talking to the Core Committee on the telephone. He said that the statements recorded by the foreigners have put a seal of approval on the fraud of Nawaz Sharif. He said that the evidence of deceit and fraud is coming from across the world. He said that he still was of the view that it was merely tip of an iceberg of corruption.
The PAT Chairman said that he never saw a public figure getting humiliated and disgraced in a manner Nawaz Sharif has been. He said that every step of the Sharif family is going to take them to their final end, adding that it is divine wrath and none of their tactics will work. He said that the ruling family has got bogged down in the marsh of its corruption and the whole world is seeing their sorry spectacle. He said that the international powers have withdrawn their support from the ousted premier. He said that no civilized country of the world can go against the decisions handed down by its judiciary.
Dr Qadri said that the decisions of the apex judiciary are in line with the Constitution and law. He said that corruption narrative of Nawaz Sharif has become an albatross around the neck of Nawaz Sharif. He said that Pemra's failure to take notice of Nawaz Sharif's anti-judiciary tirade deserves to be held to account and asked as to why media coverage of Nawaz Sharif who has been on a mission to defame judiciary is not being stopped? He said that if the Prime Minister who was nominated by the disqualified predecessor, has an ounce of honour left, he should resign immediately. He said that horrible end of the killers of innocent citizens in Model Town is writ large.