Youth are messengers of Dr Tahir-ul-Qadri's ideology: Dr Hassan Mohi-ud-Din Qadri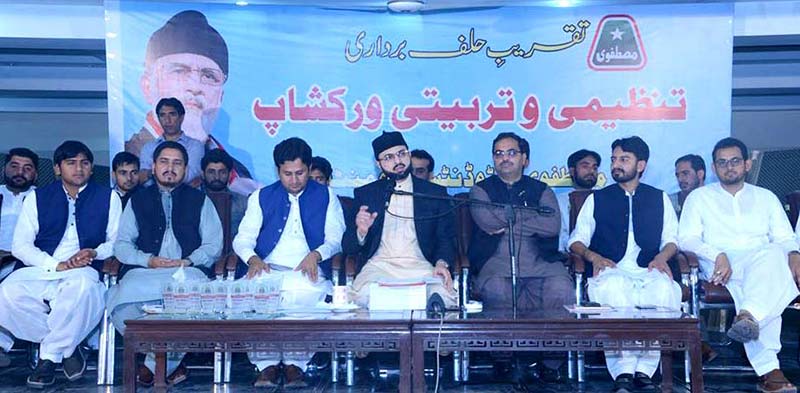 Addressing an organizational and training session of Mustafavi Students Movement, Chairman MQI Supreme Council, Dr Hassan Mohi-ud-Din Qadri has said that whichever part of the world experienced revolution, the youth and students played a leading role in it. He said that the only focus and pivot of the people's hopes are the youth. He said that the students associated with MSM are playing their positive and constructive role with their message of hope and resolve of protection of Pakistan's ideological frontiers.
MSM president Ch Irfan Yousaf, Secretary General Rana Tajjamal Hussain, Zulj Inqilabi, Mohib Majeed, Mian Anser Mahmood, Younis Noshahi and Ehsanullah Sumbal also addressed the meeting.
Dr Hassan Mohi-ud-Din Qadri said that MQI is playing its scholarly, intellectual and national role in protecting the youth from the pernicious ideology of Al-Qaeda, IS and other terrorist organizations and making them the advocate of peace. He said that the youth have accepted Dr Tahir-ul-Qadri's struggle against terrorism, militancy and radicalism and joined him in their droves to project the Islamic message of peace, harmony and dialogue. He said that he was happy to witness the passion of the students and youth for revolution wherever he went whether it is Gilgit-Baltistan, Karachi or Azad Jammu & Kashmir.
Dr Hassan said that the MSM, which came into being with a small group of committed students, has now become a broad-based representative organization of the students throughout the country. He said that it has its network in all the major universities and educational institutions, stating that the credit for mass appeal of the message of MSM goes to the leadership of Dr Tahir-ul-Qadri and a positive role played by MSM. He said that whether it is 'save the state, not the system', revolution march, of the Qisas movement, the youth have been in the forefront of efforts for peaceful change. He said that Dr Qadri has often said that his conscientious sons and daughters who are equipped with the weapons of knowledge and character are enough to bring about change in the country.
Dr Hassan Mohi-ud-Din Qadri announced to award a gold medal to Ch Irfan Yousaf, President of MSM, for organizing MSM across the country. He lauded his services towards the students and congratulated his team.