Chief Justice taking suo motu notices in public interest: Dr Hassan Mohi-ud-Din Qadri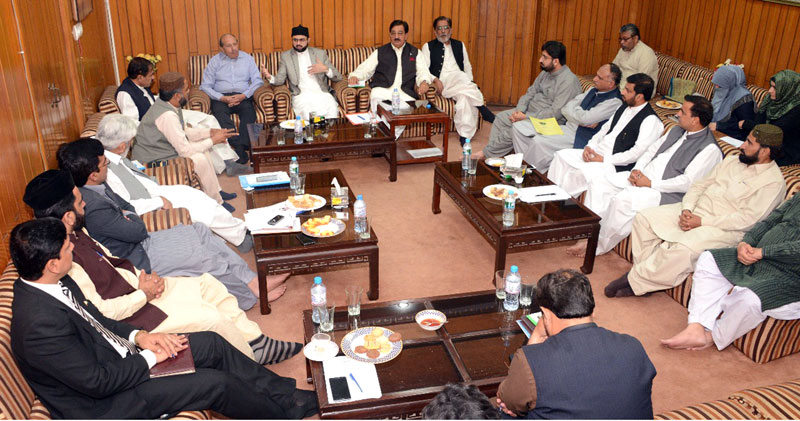 Chairman of the MQI Supreme Council Dr Hassan Mohi-ud-Din Qadri has said that a loan of $90 billion was taken during the last 70 years and thousands of trillions of rupees were spent in the name of so-called development projects, yet the poor continue to be deprived of education, health facilities and justice. He asked how long we will continue to carry the dead body of the current obsolete and rotten system. He said that the suo motu notices taken by the Chief Justice of Pakistan over denial of basic rights to the masses are correct. He said that no one should mind the bitter facts spoken about the performance of the so-called elected governments, stating the ground realities are scarier than what is generally perceived.
Dr Hassan Mohi-ud-Din Qadri stated this while addressing the Central Coordination Committee of the MQI yesterday. Brig. (r ) Iqbal Khan, Khurram Nawaz Gandapur, Brig. (r ) Muhammad Mushtaq, Rafique Najam, Rana Muhammad Idrees, Mian Rehan Maqbool, Raja Zahid, Qasim Awan, Ms. Afnan Babar, and provincial presidents and general secretaries attended the meeting.
Dr Hassan said that service providers of every kind such as teachers, doctors, clerks, workers, professors, lady health workers, are protesting over the government's conduct. He said that those whose duty it is to provide relief are themselves prey to oppression and the excesses of the executive. He asked as to who will come to the support of the masses? He said that the fact is that this oppressive system has failed miserably in delivering and hence many opportunities have been made available to the elite to exploit the country and swell their bank accounts and it is for this reason that this toxic system has been forced upon us.
The Chairman Supreme Council said that the so-called elite is of the view that if their guardian system is buried, then their role and space in it will come to an end. He said that it has been four decades since the PAT Chairman Dr Muhammad Tahir-ul-Qadri has been waging a struggle for a peaceful change and empowerment of the people. He said that we are happy that the Chief Justice of Pakistan is taking notices on the matters of public interest. He said that the honorable CJ wants to ensure the provision of the basic rights to the people; improve the public education and health system.
Dr Hassan Mohi-ud-Din Qadri said that had the elected representatives done their share of work, the situation would not have been that grim today. He also thanked the Chief Justice on taking suo motu notice of the delay in provision of justice in the Model Town case. He said had the government departments been functional as per the law, the Supreme Court did not need to take that much work on its shoulders.