Women can rise to the top by following Islamic morality: Dr Ghazala Hassan Qadri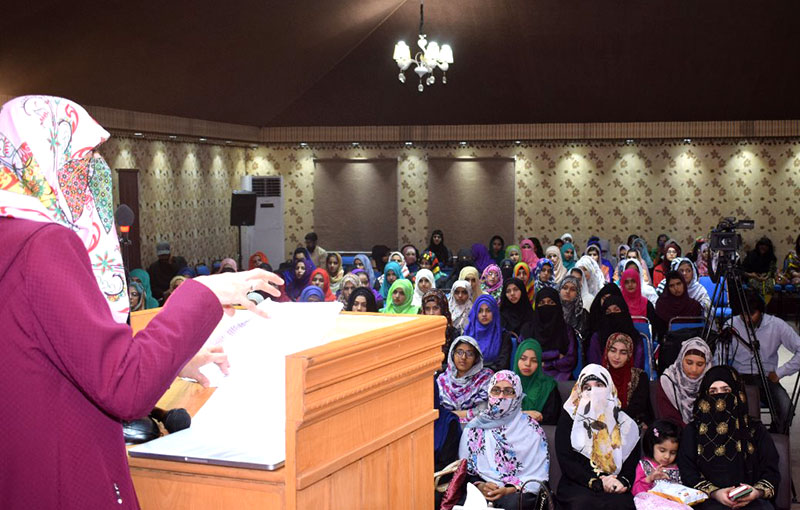 Dr Ghazala Hassan Qadri, member Board of Governors of Minhaj University Lahore, has said that the respect of women lies in their veil. She said that Islam has prescribed certain terms and conditions for men and women to follow in order to save society from disorder and chaos. She said that the moral code of conduct set by Islam has given women freedom and dignity.
Dr Ghazala Hassan Qadri made these remarks while addressing a seminar held at the Minhaj University Lahore under the banner of Minhaj Seekers Club on the subject of "A Woman`s Identity and University Life" the other day. The Seminar was attended by Ms. Fizza Hussain Qadri, Ms. Mudassra Baloch and Mrs. Khalid from Canada.
Throwing light on the aims and objectives of Minhaj Seekers Club, its patron, Ms. Ammara Maqsood Qadri said that the purpose of organizing the seminar is to create awareness among the female university students as to how they can implement the principles and guidelines given by Islam in their personal, educational and professional life. She thanked the women and guests for taking time to participate in the seminar.
In her keynote address, Dr Ghazala Hassan Qadri gave a detailed and informed account on the behavior of women in terms of veil and the effective role in society. Her lecture was informed by the teachings of the Holy Quran and Sunna. She said that Islam encourages all segments of society to take part in the constructive, positive and educational activities irrespective of gender etc. She quoted the examples of the female companions who used to play their role in religious and worldly affairs by sticking to the confines prescribed by Islam.
Dr Ghazala Hassan Qadri said that as long as the followers of Islam continued to abide by the moral code of their religion, they remained ascendant in the world. She said that it is our responsibility to follow the teachings of Islam, safeguard our respect in the pursuit of higher mission of acquisition of knowledge and emerge as role model for society.
Dr Ghazala further talked about the scholarly contributions of Dr Muhammad Tahir-ul-Qadri with regard to moral, social, educational, political and economic empowerment of the women. She said that Dr Qadri not only emphasized the need for moral education and training of the women and the youth but also set up quality institutions to cater to such a demand, of which Minhaj University is a noticeable initiative. She said that these institutions have become popular due to their equal focus on character-building and provision of quality education in line with the demands of contemporary age.