MQI Women Delegation participates in United Nations CSW Conference 2018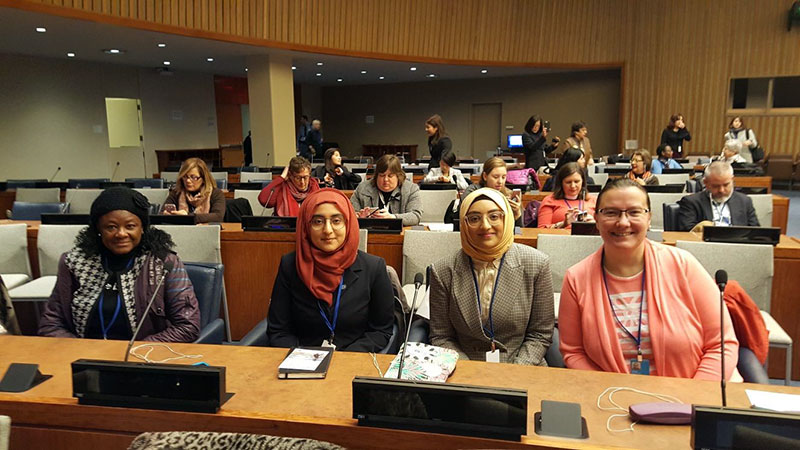 Anne Guyaz (UN Women Activist Switzerland), Safyah A. Malik (MQI Representative), Aisha Ahmed (MQI Representative), Nkechi Ikpeazu (Vicar Hope Foundation Nigeria) participating in the Informal NGO Morning Briefing at the UN Headquarters, NY.
(Pictured above from right to left)
Minhaj-ul-Quran International women's delegation participated in session of "United Nations Commission on status of Women" organized at the United Nations Headquarters in New York, USA. MQI has special consultative status in UN since 2011. Therefore, it is regularly invited at UN meetings and conferences around the world, including North America and Europe.
MQI North America representatives, Safyah A. Malik, member of the Social Media Coordination Council of MQI as well as President of MYL Sisters in Canada, and Ayesha Ahmed, executive member of MYL Sisters Canada attended session on behalf of Minhaj-ul-Quran International The opening ceremony of session was held at the UN General Assembly Hall.
During briefing Executive Director of UN Women and Under-Secretary-General Ms. Phumzile Mlambo-Ngcuka directed all participating NGOs to present notes regarding their field of work. Topic of discussion was "how the UN can help women who are abused". Minhaj-ul-Quran was the only NGO in session that was representing Muslim women living in West. The issue of young females who were oppressed and brainwashed to become "Jihadi Brides" was discussed; how the terrorist organizations wrongfully used international policies to justify their views and influence vulnerable Muslims of West. The question was posed on how the UN was working to improve those policies that promote violence and adversely affect women and children.
The comprehensive peace projects of Minhaj-ul-Quran International and Dr. Muhammad Tahir-ul-Qadri were mentioned in detail at the floor, including the 600-page Fatwa by the PAT Chairman. Safyah told about MQI's ongoing work, both in the West and the Muslim world that is aimed at providing solid evidence of nefarious role of terrorist organizations are playing, and the importance of counter-narrative of terrorist ideology. She told that Islam is a religion of love, peace and tolerance. Islam supports women's political, social and economic role in national life. Those who want to curtain the women role are indifferent are ignorant of true teachings of Islam. She said holy Prophet (PBUH) is mercy to all the worlds.
Meanwhile, MQI pattern-in-chief Dr Muhammad Tahir-ul-Qadri congratulated women delegation of MQI on participation in the UN conference and for presenting true teachings of Islam regarding the empowerment of women.