Journey of reform beings with an intention: Allama Hafiz Nazir Ahmad Qadri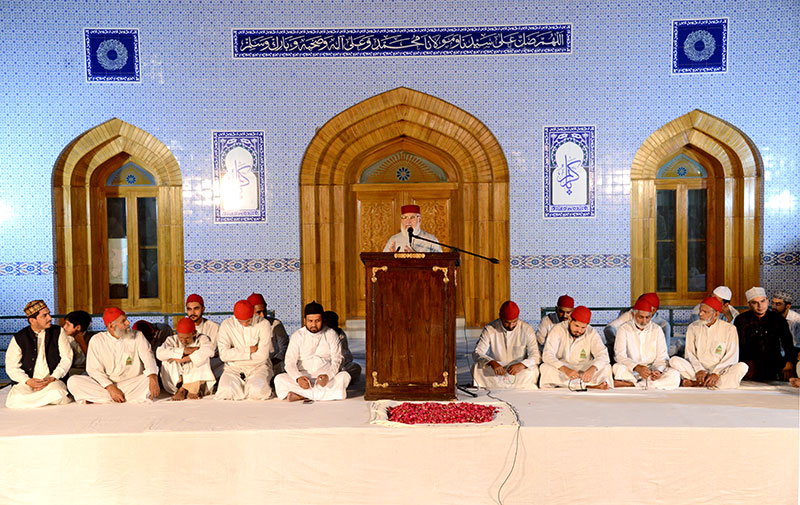 A special spiritual gathering marking 'Shab-e-Barat' (Night of Forgiveness) was held at the central secretariat of MQI on May 1, 2018, which was presided over by Allama Hafiz Nazir Ahmad Qadri, senior MQI leader and renowned religious scholar. Khurram Nawaz Gandapur, Jawad Hamid, Sohail Ahmad Raza, Muhammad Manshad, Allama Muhammad Moazzam, Hafiz Ghulam Farid and a large number of people belonging to different walks of life attended the gathering.
The proceedings of the event got underway with the recitation from the Holy Quran followed by Naat. Speaking on the occasion, Allama Hafiz Nazir Ahmad said that Shab-e-Barat is the night to seek forgiveness and salvation. He said that we have to begin afresh in life by strengthening our bond with our Creator. He said that we should beseech our Lord to show us the right path and enable us to get rid of the life of sins of omission and commissions. He said that we must pray for the departed souls of our loved ones.
Allama Hafiz Nazir Ahmad said that Allah showers His mercies on the people on this very night. He said that we should make ourselves deserving of these mercies, which is possible if we make an intention of reforming our lives both at individual and collective levels. He said that we should be particular in the fulfillment of our duties towards other human beings, stating that we will be held to account very strictly if we were found wanting on this count. He asked the people to forgive others in a spirit of generosity. He urged them to dedicate themselves to the pursuit of spiritual pleasures by turning their back on the pleasures of this world.
A special prayer was made at the conclusion of the programme.