Qirat & Arabic speech declamations held under MUL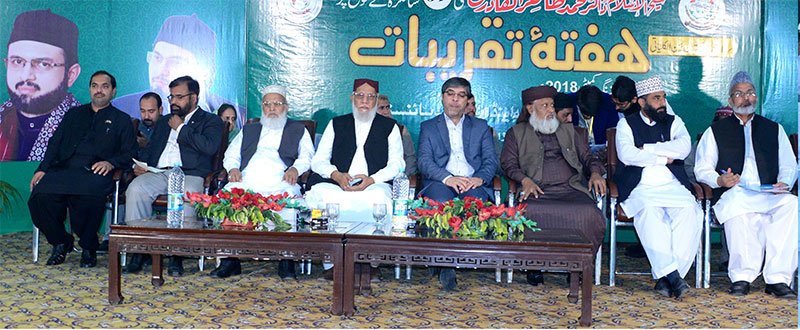 Attended by the students of different colleges, and universities of Pakistan, four-day declamation contests were held under the banner of Minhaj University Lahore. Director of Khana-e-Farhang of Iran, Aghai Ali Akbar Razai was the chief guest at the inaugural session.
Expressing his views on the occasion, Aghai Ali Akbar said that the Holy Quran provides guidance to the believers in every walk of life. He paid a rich tribute to Dr Tahir-ul-Qadri for highlighting the need of unity with the Muslim world and waging a relentless struggle against terrorism and extremism. He said that he felt pleased to visit the MQI secretariat. He said that the recitation contests play an important role in moral training and character building of the students of the colleges and universities.
Allama Mufti Badar-uz-Zaman, Pir Akhhtar Rasool Qadri, and Ahmad Sultan Khan were the guests of honour in the Quranic recitation and Arabic speech competitions, whereas presidential award holder Qari Muhammad Farooq, Qari Allah Baksh Javed, and Qari Ghulam Hussain were the members of the jury. Prof Muhammad Afzal Kanjoo, Ain-ul-Haq Baghdadi and Dr Nabeela Ishaq served as judges in the Arabic speech contests. The competing students demonstrated their amazing talent during the competitions and drew generous praise from the audience.
Hafiz Muhammad Zeeshan of Jamia Fazeelat-ul-Hayat, Qari Muhammad Abdus Samad of COSIS and Hafiz Mubashar of Jamia Ijaz-ul-Quran got first, second and third positions respectively in the Quranic recitation contest. In the Arabic speech competition, Hadeeqa Batool of Minhaj-ul-Quran Girls College, Ibrar Ahmad of COSIS and Ali Saad of COSIS bagged first, second and third positions.
More than 40 students belonging to various religious seminaries and educational institutions took part in the Quranic recitation competition. The chief guest distributed prizes among the position holders on the occasion.
Mumtaz-ul-Hassan Barvi, Abdul Qayyum Hazaarvi, Muhammad Nawaz Zafar, Fazal Mehdi, Shabir Ahmad Jami, Mumtaz Ahmad Sadeedi, Shafqat Ali Baghdadi, Shahzad Rasool and Sohail Ahmad Raza spoke on the occasion.