MWL pays tributes to Sayyida atima al-Zahra' (R.A.) on her death anniversary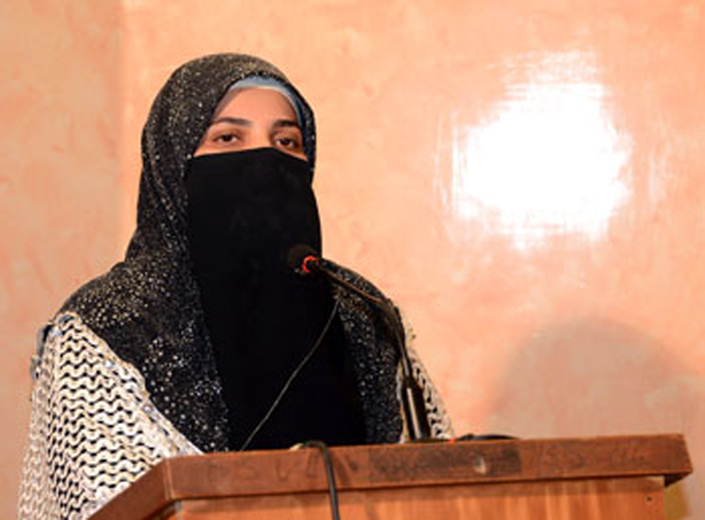 Mrs. Farah Naz, president of Minhaj-ul-Quran Women League, has said that Sayyida 'Aalam Fatima al-Zahra' (R.A.) is the exalted, scholarly and accomplished personality of human history. She is a complete code of life for the women around the world. As a wife, daughter and a mother, she played such an incredible and unforgettable role which is worthy of emulation in every respect. Her life and conduct is a beacon of light for the womenfolk.
Mrs. Farah Naz expressed these views while addressing an intellectual gathering held to mark the death anniversary of Sayyida 'Aalam Fatima al-Zahra' (R.A.) here at the central secretariat of the MQI the other day. Afnan Babar, Shahid Mughal, Zainab Arashad, Ayesha Mubashar, Irshad Iqbal, Umme Habiba, Lubna Mushtaq, Kalsoom Tufail, Umme Habiba Ismail, Mamoona Shafaat, Aiman Yousaf, Saadia Ahmad and other women were present on the occasion.
Mrs. Farah Naz said that one can acquire wisdom and scholarship by virtue of the dust from the feet of Bibi Fatima (RA). She said that if today's woman wants respect and rise, she should take an inspiration from the blessed life of Sayyida 'Aalam Fatima al-Zahra' (R.A.) and make her the role model. She said that we are worn-out and jaded in our race of materialism, stating that the peace of mind lies in seeking the company of those who are beloved in the eyes of Allah Almighty. She said that those who made Sayyida 'Aalam Fatima al-Zahra' (R.A.) their inspiration and role model, are not only destined to succeed in this world but also in the hereafter.
Mrs. Farah Naz said that Bibi Fatima (RA) was a mountain of patience and perseverance, an iron wall of tolerance and a sacred paragon of equality. The obedience of husband and discharge of the responsibility of the children is reflection of her excellence of character. She further said that mannerism and character of Sayyida 'Aalam Fatima al-Zahra' (R.A.) mirrored the attributes and qualities of her revered mother Sayyida Khadija-tul-Kubra (RA). She was a perfect wife and trusted companion of Hazrat Ali (RA) who stood by her husband all his life like a rock. There was no third thing in her heart except the worship of Allah and love of the Holy Prophet (SAW). She got training directly from the Prophet of Islam (SAW).
The President of MWL quoted a Hadith wherein the Holy Prophet (SA) that Sayyida Fatima (RA) is a part of him and whosoever made her angry, made him angry and earned Allah's wrath. She said that the place and high station held by the Prophet's household is above human understanding. She said that it is the sacred family whose piety and greatness has been mentioned in the Holy Quran. She said that the loving the family of the Holy Prophet (SAW) is a sign of good luck for the 'Iman'.