Belief in finality of prophethood essence of our faith: Allama Ghulam Murtaza Alvi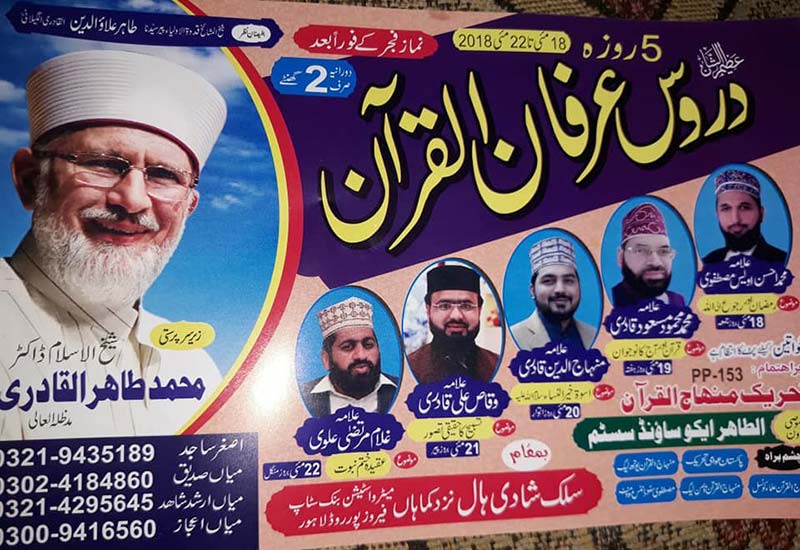 Allama Ghulam Murtaza Alvi, while giving lecture as part of 30-day series of lectures on Irfan-ul-Quran in PP 157 Cantonment area in Lahore, said that the outgoing parliament has the stigma of trying to amend the law regarding the belief in the prophethood. He said that those who tried to raise suspicion and question this settled law will not only be disgraced in this world but also in the hereafter. He said that no one can dare tinker with the law regarding finality of the prophethood till the Day of Judgment.
Senior MQI Lahore leaders namely Rafique Najam, Hafiz Ghulam Farid, Ishtiaq Hanif Mughal, Qamar Iqbal, Tariq Khan, Muhammad Afzal, and Haji Ghulam Ghous also attended the lecture.
Allama Ghulam Murtaza Alvi said that Shaykh-ul-Islam Dr Muhammad Tahir-ul-Qadri exposed the conspiracy that was being hatched against the belief in the finality of the prophethood and drew the attention of the nation towards this very sensitive issue. He said that whoever is involved in religious and ideological terrorism will not be able to go scot-free.
Allama Alvi said that the present rulers are liars and fraud. They themselves established a committee to probe the matter but to date, the report of the committee has not been made public. He said that MQI and thousands of scholars associated with it are the guardians of the belief in the finality of the prophethood and fundamentals of Islam. He said that the youth are being led astray intellectually under a plan. He said that guidance of the people in the light of the teachings of Islam is a great worship in this day and age.