President of Pontifical Council, Vatican City, sends message of greetings to MQI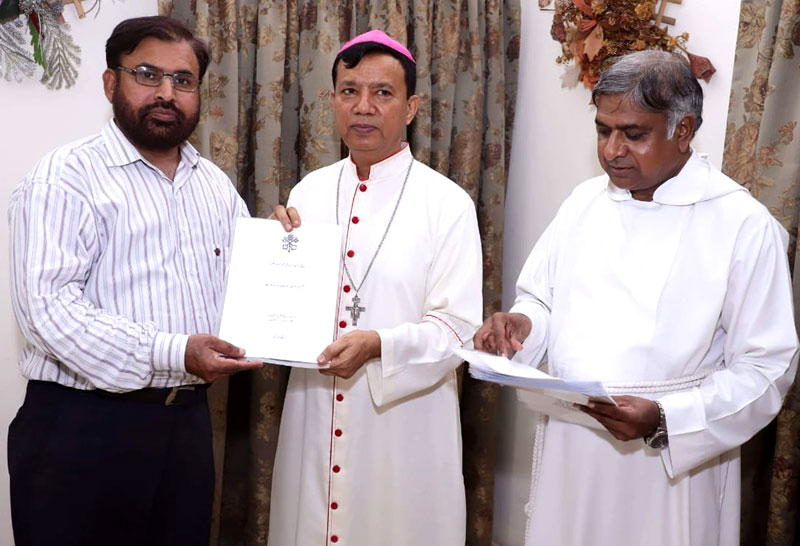 Archbishop Subtain Francis Shah and Father Francis Nadeem, the representatives of Pontifical Council for Interreligious Dialogue, gave the message of Ramadan and Eid greetings to Sohail Ahmad Raza, Director of MQI Interfaith Relations on behalf of Cardinal Jean-Louis Tauran, President of the Pontifical Council, Vatican City. The message was delivered at an ifar dinner held at Saint Anthony Catholic Cathedral Church in Lahore. The dinner was attended by representatives and leaders of different faiths and communities.
Speaking on the occasion, Sohail Ahmad Raza thanked the President and Secretary General of Pontifical Council of Interreligious Dialogue, Vatican City, for sending the greetings and messages of congratulations on Ramadan and Eid to MQI and the Muslims. He said that Muslim-Christian relations are very important for peace and stability in the world. He said that we greatly value the efforts of the leaders of the Christian faith for promotion of tolerance and interfaith dialogue in the world.
Sohail Ahmad Raza said that a culture of dialogue, not confrontation, should be encouraged among various faiths and religions. He said that the need for interfaith dialogue could not be greater than it is today. He said that non-Muslim citizens enjoy complete religious freedom. He said that the world needs to be made hub of peace and tolerance so that we could get rid of extremism and terrorism and achieve the goal of progress for all. He said that we need to reach out to members of other faiths and understand their point of view which will lead to respect for diversity and dialogue.