Dr Tahir-ul-Qadri to deliver lecture on 'Moral Excellence and Spiritual Advancement'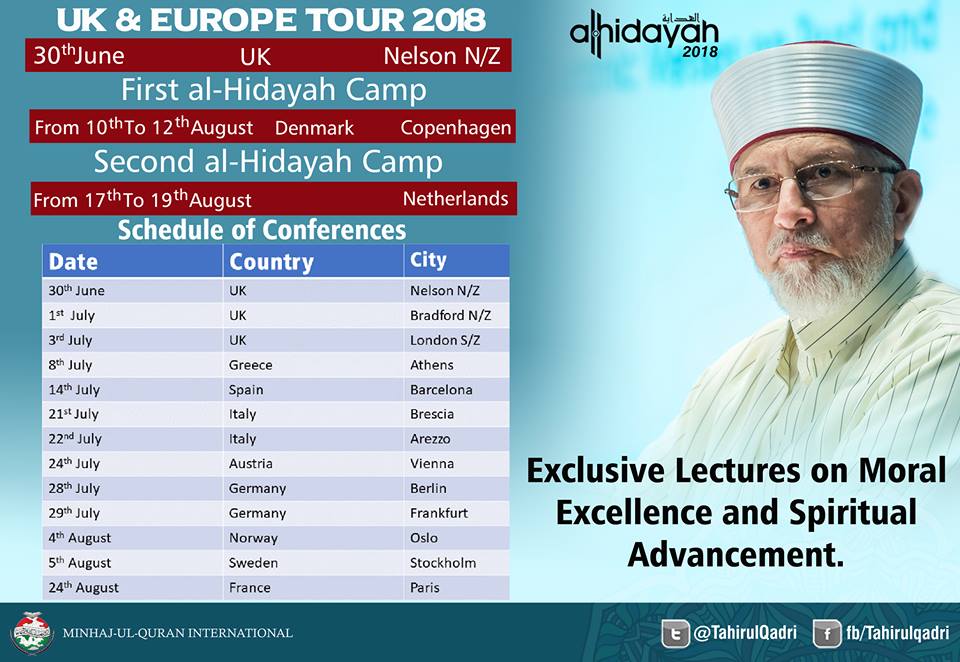 PAT Chairman and founding-leader of MQI, Dr Tahir-ul-Qadri, will be on an organizational visit of different countries of Europe from July 6 to August 25. During his stay, he will deliver special lectures on the topic of 'Moral Excellence and Spiritual Advancement'.
The PAT Chairman will deliver lectures in Athens on July 6, Spain on July 9, Geneva on July 15, Italy on July 19, Australia on July 23, Frankfurt on July 26, Berlin on July 28, Norway on July 30, Stockholm on August 5, Malmo on August 7, Copenhagen on August 10, Holland on Aug 16 and Paris on Aug 21.
Dr Qadri spent a busy day in London yesterday. He held meetings with delegations of expatriate Pakistani community. Speaking to them, he said that lectures on various moral, spiritual and social subjects have been arranged for education and training of the hundreds of thousands of children living overseas. He said that the Pakistanis living abroad are ambassador of Pakistan and Islam and it is important that they are educated on various aspects of Islam.
Dr Tahir-ul-Qadri said that Allah Almighty has conferred the responsibility of imparting moral and spiritual training to the youth of Islam which we are trying to fulfill to the best of our ability. He said that in this day and age marked by dominance of social media, many individuals, groups and parties are active online who are propagating distorted information and thus there is a lurking danger that the minds of the youth are polluted. He said that there is an acute need that the peaceful teachings of Islam are highlighted. He said that we are safeguarding the future of the Umma by promoting the culture of informed debate and research through book reading.