Electoral system needs reforms to be credible: Dr Tahir-ul-Qadri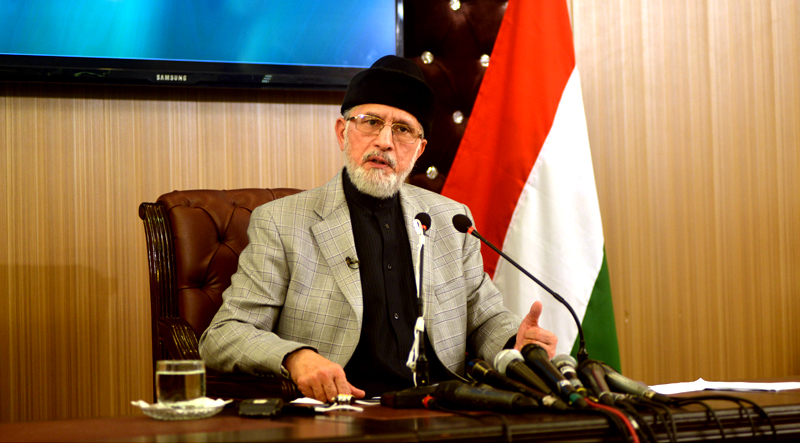 I have always given lesson of peace to my workers. Had we wanted, we would have taken revenge on the killers involved in Model Town massacre and they would have been buried before the burial of the Model Town martyrs and their anniversaries would have been observed by now. It has been four years since we have been fighting for justice in the courts of law in respect of law of the land. There should be one institution in Pakistan that stands by the oppressed and ensures administration of justice to them. The oppressors are at large and the police officers involved in the tragedy are enjoying better salaries and perks.
These views were expressed by PAT Chairman Dr Muhammad Tahir-ul-Qadri while talking to the party leaders in the central secretariat through telephone. He said that notices are taken but those involving the sanctity of human life should reach their logical conclusion. He said that real opposition of this system is the PAT and we will continue to perform this duty in future as well. He said that we exposed this oppressive and exploitative system in the past and will do the same again too. He said that our struggle is for the rule of law and supremacy of the constitution.
Dr Tahir-ul-Qadri said that he is the voice of the millions of the suppressed poor. He said that elections are meant for the moneyed classes and there is nothing for the poor in them. He said that the candidates violate the limit of expenses set by the ECP. He said that the election code of conduct is violated with abandon but no one is able to speak up. He said that this system has paralyzed the institutions. He said that the assets shown by those who live in palatial like houses and move in motor convoys are a joke with the nation, asking does anyone still think that anyone can dare hold the powerful to accountability in this country.
Dr Qadri said that this system is too weak to undertake accountability of the elite. He said that the PAT has carried out its share of struggle against this system. He said that our resolve has not waned, adding that unless every citizen stands up for his/her rights, injustice will not end.