Bradford, UK: Members-only sitting with Shaykh-ul-Islam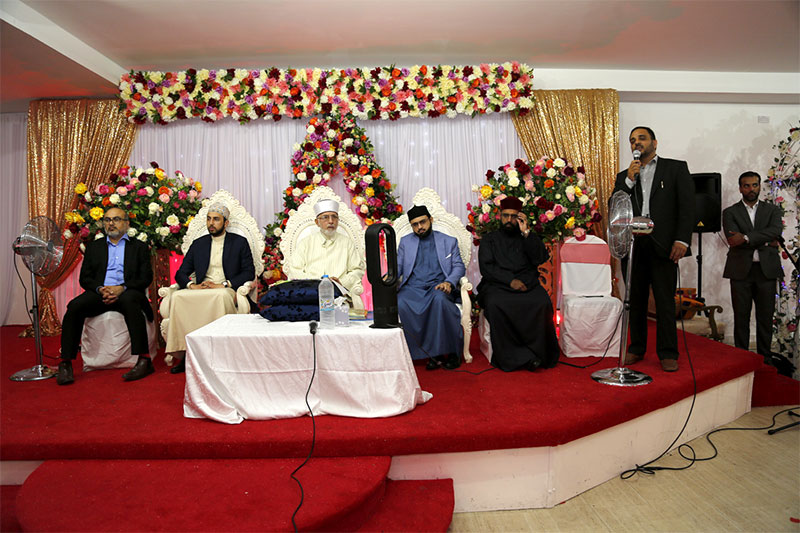 1st July was a day of celebration and blessings for members of Minhaj-ul-Quran International UK. After a period of almost 10 years, the members were to have exclusive members-only sitting with Shaykh-ul-Islam Dr Muhammad Tahir-ul-Qadri.
On this occasion, Shaykh-ul-Islam was also accompanied by his family, including Dr Hassan Mohi-ud-Din Qadri, Chairman Supreme Council, MQI and Shaykh Hammad Mustafa Al Madani Al Qadri.
The meeting took place at Pearl Banqueting Suite (Bradford) in a decorated setting to welcome the eminent leadership. Representatives from Greater Manchester, Lancashire and Yorkshire were in attendance. Following a 3 course dinner, the members took turns alternating from city to city and town to town to meet Shaykh-ul-Islam and have collective photographs taken.
Once personal greetings had been exchanged, Shaykh-ul-Islam delivered a talk on the subject of "Moral Excellence and Spiritual Advancement." This was the first talk on the subject and start of a European tour where the subject theme would remain consistent throughout, ensuring that all aspects of the diverse topic are covered and an extensive resource pool for the education of present and future generations is generated.
The members left the day overwhelmed by the experience and inspired to develop themselves and motivated to further the work of Minhaj-ul-Quran International.