Independence is a great blessing of Allah: PAT Secretary General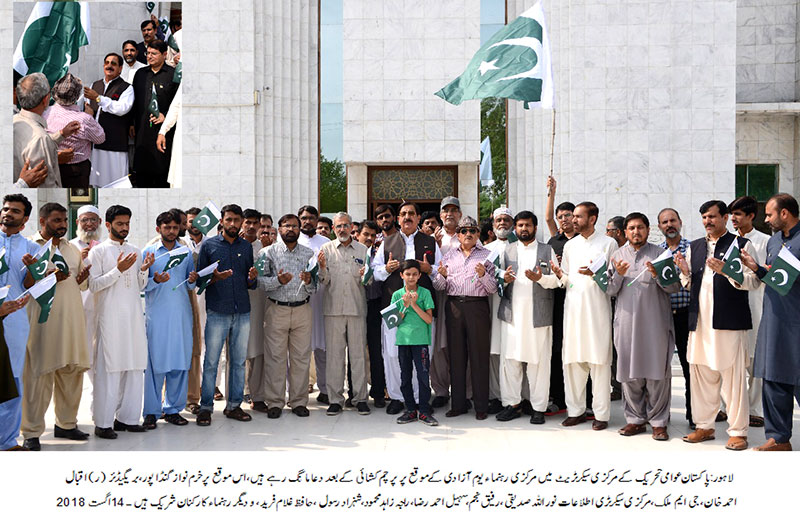 A special Independence Day ceremony was held in the central secretariat to celebrate the 71st anniversary of Pakistan's coming into being. The flag was hoisted on the occasion and a special prayer was made for Pakistan's peace, progress and prosperity.
Speaking on the occasion, PAT Secretary General Khurram Nawaz Gandapur said that we have serious reservations on the statement of Maulana Fazal-ur-Rehman about not celebrating the Independence Day. He said that the JUI-F chief should seek the pardon of the nation and demanded of the opposition parties to hold Maulana to account over his irresponsible statement.
Khurram Nawaz Gandapur said that Pakistan was achieved after millions of sacrifices. He said that freedom is a special blessing of Allah Almighty and we should rise above our narrow political likes and dislikes and celebrate such national days as one nation. He said that those who have resorted to passing anti-country statements just because they were defeated in the elections cannot be well-wisher of the nation.
The PAT Secretary General said that this statement has forced us to go back into past and identify those elements that opposed the creation of Pakistan. He said that it is a fact that the worldview of such people has not undergone any change despite passage of seven decades. He said that Pakistan is a trust handed down to us by the martyrs, stating that those who are not okay with our independence day celebrations should leave this country and settle elsewhere. He said that all opposition parties will have to clarify their position with regard to the statement of Maulana Fazal-ur-Rehman.
A large number of PAT workers and leaders attended the celebrations.