Blasphemous caricatures a cause of deep anger in Muslim world: Dr Tahir-ul-Qadri
Expressing his deep concern on the news of blasphemous caricatures, MQI leader Shaykh-ul-Islam Dr Muhammad Tahir-ul-Qadri has termed it as heinous conspiracy against peace and international brotherhood. He said that the spirit of human rights lies in the fact that all places of worship, holy personages, traditions and teachings of religions should be respected and the world be stopped from heading to new civilizational clash. He said that such degrading acts as caricatures are creating anger and deep sense of anxiety amongst the Muslims around the world, which needs to be checked through prompt step. He said that hurting the religious emotions of more than 1.5 billion Muslims represents the negation of the human rights sanctified by the UN charter. He warned that spread of hatred will erode the remainder of peace in the world besides strengthening the narrative of the extremists and terrorists.
Shaykh-ul-Islam Dr Muhammad Tahir-ul-Qadri made this statement to mark the international day of human rights. He said that blasphemy of the holy personages of different religions is not any kind of freedom of expression. He said that the global peace is precariously perched, stating that the world must be stopped from inching towards a state of clash at this point in time. He said that the UN, European Union and the OIC have a major responsibility on their shoulders to act fast and stem the slide in interfaith relations that blasphemous caricatures can cause. He said that environment of hate stuffed with suspicions should be replaced with fragrance of love and amity.
The MQI leader said that the Holy Prophet Muhammad (pbuh) came to the world as a Prophet of Mercy for the whole humanity without any discrimination. Islam imparted the lesson of interfaith harmony and love. He asked the western governments to come forward and play their active role in securing the religious liberties and rights of the Muslims.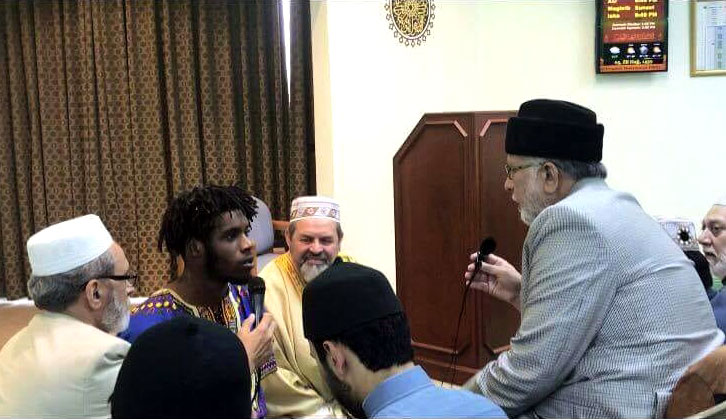 Meanwhile, Jay Homy, an American youth, embraced Islam at the hands of Shaykh-ul-Islam Dr Muhammad Tahir-ul-Qadri in Dallas. He congratulated the youth on entering the fold of Islam and directed the MQI Dallas to take steps for basic education and moral training of the newly convert.
The American youth, while speaking on the occasion, said that he decided to convert to Islam after thoroughly studying Islamic literature. He said that he was most impressed by the Islamic teachings of tolerance, moderation, and respect for others. He said that we can eliminate hatred from the world by acting upon the Islamic teachings in letter and spirit. He thanked the scholars of MQI for enriching him with the light of faith.