Dr Tahir-ul-Qadri welcomes Senate resolution against blasphemous caricatures
It has now become inevitable to make necessary laws at international level to curb the contemptuous and disrespectful behaviour towards sacred personalities in future. OIC must play its role in pursuing this important task.#OurProphetOurHonour

— Dr Tahir-ul-Qadri (@TahirulQadri) August 30, 2018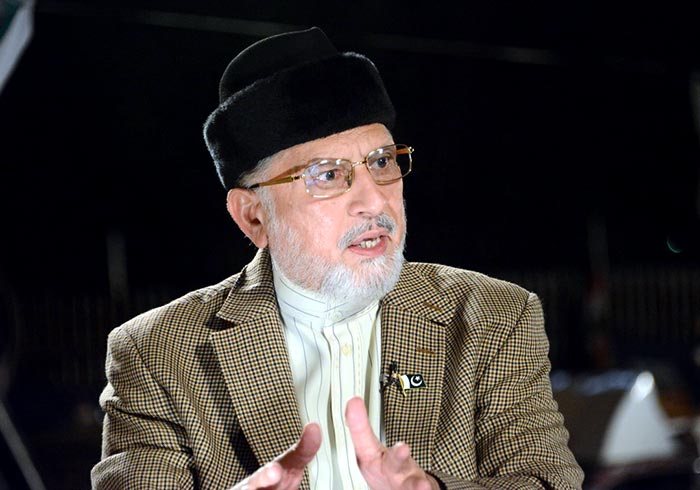 Shaykh-ul-Islam Dr Muhammad Tahir-ul-Qadri has said that we welcome the passage of condemnatory resolution passed by the Senate of Pakistan against the blasphemous caricatures and the government's decision to raise the matter at the UN. He asked the OIC to play its diplomatic, political and moral role to stop the competition in the Netherlands from being held. He said that the international laws do not allow such hate-filled and provocative activities, stating that the world stands on the precipice of a war and such heinous actions will only serve to ignite the already precarious state of interfaith relations. He said that the narrative of the terrorists will be strengthened and they will use such activities to justify their nihilist agenda. He said that the regional and global efforts being made to eliminate the twin scourge of terrorism and extremism will also be undermined.
In a statement, Dr Tahir-ul-Qadri said that the Holy Prophet (pbuh) was sent as a Prophet of Mercy for the whole mankind and that his teachings are based on tolerance, peace, moderation and respect of human rights. He said that no religion of the world allows blasphemy of holy personages, figures and books. He said that attitude and actions that seek to cast an aspersion on the revered personalities in any manner do not fall in the category of the freedom of expression. Article 20 of International Covenant on Civil and Political Rights holds that "Any advocacy of national, racial or religious hatred that constitutes incitement to discrimination, hostility or violence shall be prohibited by law."
The MQI leader said that Advertising Authority of the UK banned an ad on September 8, 2011 that used an image of Hazrat Isa (as). The Authority received 100 complaints in which it was said that the ad would cause a hurt of the followers of Christianity and insult their religion. He said that a strong sense of anxiety is found amongst 1.5 billion Muslims across the world on the issue of caricatures. He said that the religious sentiments of the Muslims should be respected.
Dr Qadri said that under Dutch Code of Criminal Procedure of the Netherlands, any activity that inspires hatred against a particular group or creates discrimination against it is banned under Article 137-C. He said that offences listed under the Criminal Procedure Code have clearly been described in the said Article.
He said that the national laws of Switzerland, Sweden, Chile, South Africa, Singapore, Poland, Norway, New Zealand, Brazil, Canada, EU, Denmark, Finland, Germany, Iceland and Ireland have described the racial profiling and vilification of an entire group as a crime. He said that the blasphemous caricatures will increase international hatred and accelerate clash. He demanded that such an evil thinking should be changed in the interest of global peace and amity.
Respect of all the Prophets is at core of Islamic teachings and one cannot be a faithful Muslim unless he believes in all Prophets and the Holy books revealed upon them.#OurProphetOurHonour

— Dr. Hassan Qadri (@DrHassanQadri) August 30, 2018
International community must curtail the factors resulting in the clash of religions, otherwise, it would not only halt the efforts towards attaining global peace but would also strengthen the narrative of extremists.#OurProphetOurHonour

— Dr Hussain Qadri (@DrHussainQadri) August 30, 2018