Former DCO Lahore Capt. Usman cross-examined for the third day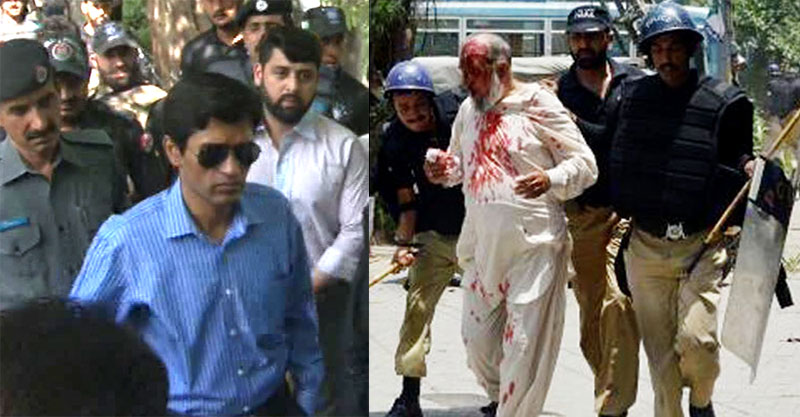 The cross-examination of ex-DCO Lahore Capt. (r) Muhammad Usman continued for the third day in connection with the private complaint in Model Town case. Reply to questions of the lawyers, the former DCO said that he was only ordered to remove barriers. He said that the possibility that it could lead to law and order situation was the responsibility of the police that should have called for a report on this count. In reply to a question he said that if there was any casualty as a result of similar operation elsewhere is not in his knowledge.
The PAT lawyers maintained that a senior officer who was present on the scene is hiding facts from the court. They said that despite his statement that he was there on the spot from 8.45 am to 1:00 pm, he negated any incident of firing taking place, whereas the fact as witnessed by the whole world is that all killings took place before it.
Talking to the media after the proceedings, complainant Jawad Hamid, Rai Bashir Advocate, Badar-uz-Zaman Chatha and Naeem-ud-Din Chaudhry Advocate said that Capt. Usman continuously told lies and tried to distort facts. He still considers former CM his boss and made an effort to save his skin. They said that the whole world saw the police firing and martyring innocent people in broad daylight, whereas he is negating any incident of firing despite the fact that he was present on the spot.
The PAT lawyers maintained that Capt. Usman was made DCO due to his role in the Model Town tragedy and was made head of the Saaf Pani Company at 1.4 million salary package as a reward for his 'services'. Jawad Hamid stated on the occasion that another character who tortured and severely injured PAT worker Iftikhar is DSP Aftab Phularwan, adding that he is one of the people for whose appearance before the court a petition has been filed. The DSP requested the court for an exemption from appearance in the court.
Jawad Hamid responded by saying that no leniency should be shown to any accused and demanded that all of them should be made to step down from their positions till the conclusion of the case. He said that he is the same police officer who pressurized the doctors and administration of Jinnah hospital to tinker with the medical record of the injured and when he was spotted by the media, he made his escape good from there. He said that the killers of our innocent workers do not deserve any concession.