PAT & MQI delegation visits families of martyrs on Defence Day of Pakistan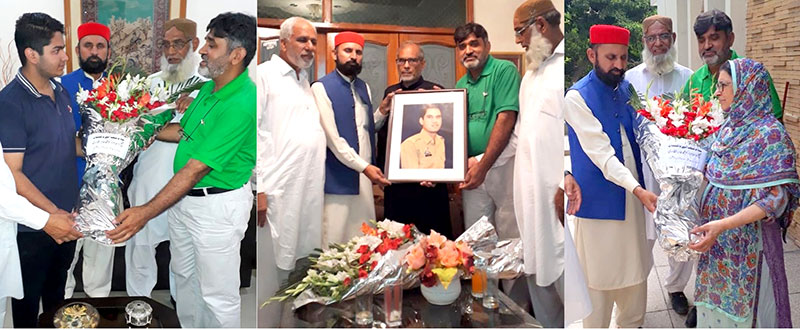 A high level delegation of PAT and MQI met with the families of the martyrs on the occasion of Defence Day of Pakistan. They presented them with bouquet of flowers on behalf of Dr Tahir-ul-Qadri and paid rich tributes to the martyrs who laid down their lives for the sake of the motherland. The PAT and MQI delegates visited the residences of Major Atif Rasool Shaheed, Capt. Manan-ul-Hassan Shaheed, Lt. Col. Sajid Mushtaq Shaheed, Major Mustafa Sabir Shaheed, and Major Zahid Bari Shaheed and met with their families.
Talking to the families of the Pakistani servicemen, the PAT and MQI leaders said that the whole nation is proud of their martyrs who gave the supreme sacrifice of their life in the line of duty. They said that they are our benefactors and heroes, adding that we can never forget their sacrifices.
The family members of the martyrs expressed their pleasant surprise on the visit and thanked Dr Tahir-ul-Qadri and the members of the delegation for remembering them. The delegation led by Muhammad Hanif Qadri included Raja Mahmood Aziz, Mian Mumtaz Hussain, Muhammad Ramzan Ayubi and others.
Speaking on the occasion, Muhammad Hanif Qadri paid rich tributes to the martyrs. He said that the story of love and loyalty that the armed forces of Pakistan have written with their blood will continue to inspire the whole nation till times to come. He said that our forces have not only defended the motherland during wars of 1948, 1965 and 1971 but have also been at the forefront of the war on terrorism to rid the country of this scourge of militancy. He said that thanks to the sustained focus and massive sacrifices rendered by the military and the people of Pakistan, terrorism has been eliminated to a large extent. He said that successes achieved against terrorism are a stuff of legends at which the world is amazed.
Muhammad Hanif Qadri urged every citizen of the country to adhere to the Quaid's motto of unity, faith and discipline and play his/her role in peace, progress and stability of the country. He said that it is demand of our love for the motherland that we should not allow anyone to undermine our national institutions, stating that foiling the conspiracies of the anti-Pakistan elements is the collective responsibility of the whole nation. He said that we should reject all campaigns and assertions meant to target our armed forces. He said that the armed forces and the people are inseparable from each other. We are each other's strength and no one can succeed in driving a wedge in this relationship of love.