Political Advisor to CM Punjab calls on Dr Tahir-ul-Qadri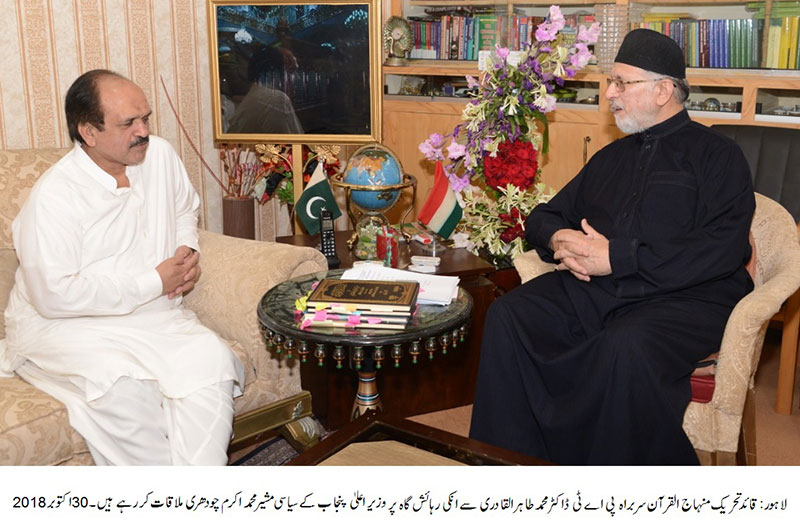 Muhammad Akram Chaudhry, political advisor to the Chief Minister Punjab, called on Dr Muhammad Tahir-ul-Qadri at his residence the other day. He inquired after his health and presented him bouquet of flowers for quick recovery of health.
Speaking on the occasion, Muhammad Akram Chaudhry said that the nation and the Muslims need scholars of Dr Tahir-ul-Qadri's stature. He said that the scholarly and intellectual contributions that Dr Tahir-ul-Qadri has rendered will continue to benefit the coming generations. He said that the MQI has played an appreciable role to shield the youth from the poisonous influence of terrorism and extremism.
The political advisor further said that the government has adopted austerity and it is the Prime Minister himself who initiated the culture of austerity with the PM house, CM and Governors Houses. He said that every penny of the nation is a trust, adding that the expenditure of the millions of rupees has been reduced to lacs. He said that we would do everything possible for resolution of people's issues and putting the economy back on track. He said that we would benefit from the work of Dr Qadri in our mission to turn Pakistan into a Madina-like state.
Dr Tahir-ul-Qadri thanked Muhammad Akram Chaudhry on coming over and stated that his best wishes are with the government for accomplishing the targets it has set for itself.