Dr Tahir-ul-Qadri's special message on 141st birthday of Allama Iqbal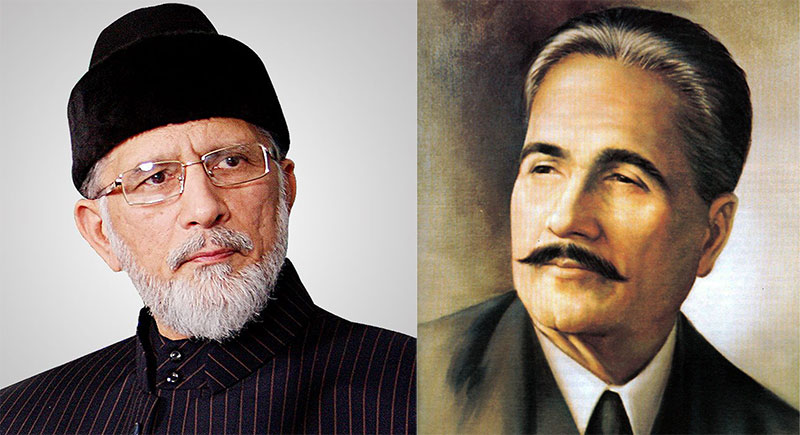 In his message on the 141st birth anniversary of Allama Dr Muhammad Iqbal, being celebrated today, PAT Chairman Dr Muhammad Tahir-ul-Qadri has said that it is by studying the poetry and philosophy of the poet of the East that one gets to how the sea of love of the Holy Prophet (pbuh) was raging in his personality and whole being. He said that he was a true lover of the Holy Prophet (pbuh) over and above being an Islamic scholar, 'Hakim-ul-Ummat', and creator of the idea of Pakistan.
Dr Tahir-ul-Qadri stated this while talking to a delegation of the senior leaders of Minhaj-ul-Quran Ulama Council yesterday. He said that Dr Allama Muhammad Iqbal appears to be desirous of newness and firmness in character, and reconstruction of religious thought and self and it is for this reason that he repeatedly says that without the study of the Holy Quran, no Muslim can ever attain these lofty objectives. He said that the more we study the personality of Iqbal, the more and new aspects of his multi-dimensional personality are come to light.
The PAT Chairman said that all facets of Iqbal's thought have been formulated in the light of the deep study of the Holy Quran and the love of the Holy Prophet (pbuh). He said that Iqbal is of the considered opinion that if the Muslims have to regain their lost glory, they will have to go back to the Holy Quran and the beloved Prophet of Allah (pbuh) for guidance, for these are two sources of guidance for the humanity. He said that Pakistan came into being in the name of Islam, adding that Pakistan's ideology and love of the Holy Prophet (pbuh) are two sides of the same coin.
Dr Qadri said that Allama Iqbal considered the love of the Holy Prophet (pbuh) the basis of the faith and the same is the most essential part of his poetry. He said that he not only exposed the Muslims to the realities of the contemporary era but also projected the picture of the coming age. Allama Iqbal is not the poet and philosopher of any particular time. Rather all ages have benefited from his thoughts and wisdom. He said that Dr Iqbal was most sincere leader of the Muslim community, adding that the origin of his philosophy, knowledge and love is the Holy Quran.