MQI Lahore takes out procession to welcome Rabi-ul-Awwal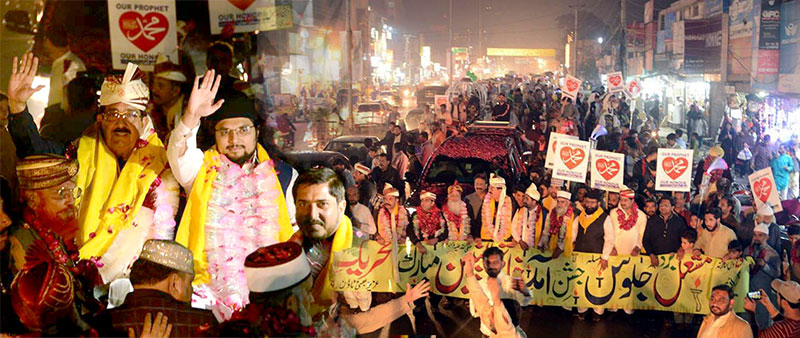 MQI Lahore took out a procession to welcome the start of the holy month of Rabi-ul-Awwal from Mughalpura chowk to main bazar Baghbanpura. The procession, which was attended by a large number of people including traders, students, teachers and women, passed through different places with the participants raising slogans to welcome the holy month.
MQI President Dr Hussain Mohi-ud-Din Qadri led the procession, whereas those present on the occasion included Khurram Nawaz Gandapur, Engineer Muhammad Rafique Najam, Hafiz Ghulam Farid, Ishtiaq Hanif Mughal, Shahbaz Hussain Bhatti, Hafizullah Javed, Haji Muhammad Farrukh, Muhammad Aslam Chaudhry, Muhammad Athar, Muhammad Arshad Tahir, Sanaullah Khan, Ghulam Asghar Siddiqi, Syed Inamullah, Pir Ghulzar Hussain Shah, Dr Shahid Mahmood, Professor Muhammad Imran, Muhammad Aslam Pervez Qadri, and others. Haji Manzoor Hussain, trader leader, joined the procession at the head of a large delegation.
The people of the areas along the route and traders of Shalamar Link Road extended a very warm welcome to the participants of the procession and threw rose petals on them as they passed. The route of the procession was decorated with welcoming banners. The buildings on the way were lighted with electric bulbs. The whole atmosphere was ecstatic with passionate slogans signifying deep love and reverence for the Holy Prophet (pbuh).
Addressing the procession, Dr Hussain Mohi-ud-Din Qadri said that Allah Almighty sent the Holy Prophet (pbuh) as a fountain of guidance and wisdom for all the worlds. He said that the birth of the beloved Prophet (pbuh) heralded the beginning of a new era with the result that humanity entered a new and a more meaningful phase in its evolution marked by increased awareness about human rights, and dignity of the mankind irrespective of any discrimination of caste, creed and colour. He said that the faithful strengthen their faith by celebrating the Mawlid-un-Nabi (pbuh). He said that the Holy Prophet (pbuh) imparted the lesson of democracy, human rights and equality to the humanity.
The MQI President said that the MQI under the leadership of Dr Tahir-ul-Qadri has been celebrating the birth anniversary of the Holy Prophet (pbuh) with religious fervor for well over last three decades by propagating the culture of celebration. He said that International Mawlid-un-Nabi Conference to be held at historic Minar-e-Pakistan will be the 35th edition that will be attended by the renowned personalities of the country belonging to different walks of life.
Milad feast was also arranged at the end of the procession.