PAT welcomes SC's decision to form larger bench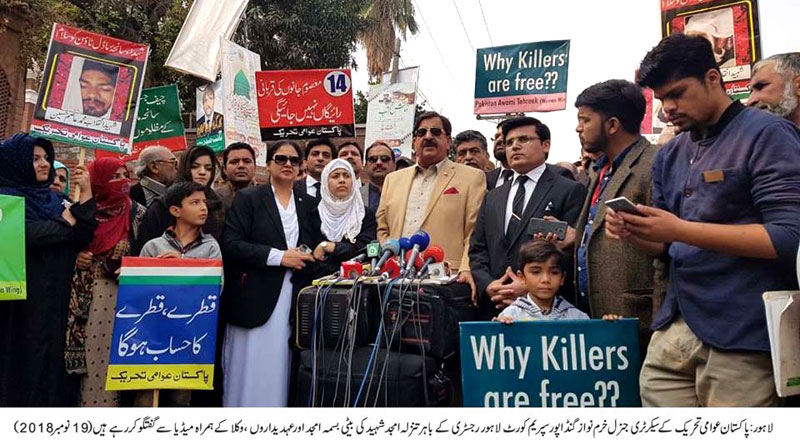 PAT Secretary General Khurram Nawaz Gandapur has said that we welcome the Supreme Court's decision to establish a larger bench to constitute a new JIT to probe the Model Town tragedy afresh. He said that whichever case the Sharif brothers are involved in, they adopt the delaying tactics. Their lawyers requested for more time for preparation during the hearing of the case in the Lahore Registry of the SC yesterday. He stated that the PAT Chairman Dr Muhammad Tahir-ul-Qadri appeared in the SC on the second occasion in connection with Model Town case and presented arguments for the constitution of the new JIT. He said that Dr Qadri will appear before the larger bench of the SC on December 5 as well and present his legal point of view for the establishment of the new JIT before the bench.
The PAT Secretary General expressed these views while talking to the media after the hearing in the SC concluded. The application, Bisma Amjad, Noorullah Siddiqui, Jawad Hamid, Rafique Najam, Naeem-ud-Din Chaudhry Advocate, Sardar Ghazanfar and others were present on the occasion.
Khurram Nawaz Gandapur said that Dr Tahir-ul-Qadri stated before the honorable Chief Justice in his legal arguments that the private complaint stands where it was since the decision to summon former IG Police Mushtaq Sukhera was handed down. He said that there is no legal complication or hurdle in the establishment of new JIT. He said that as Dr Qadri went ahead with more arguments on his standpoint, the lawyers representing the Sharif brothers said that they were not prepared to reply and needed more time. At this, the Chief Justice stated that it was the main question that was to be answered.
Khurram Nawaz Gandapur said that honorable Chief Justice also mentioned during the proceedings that the larger SC bench will also have representation of the judges belonging to other provinces. He said that we are of the considered opinion that Model Town case is a national tragedy and such a larger bench is required for its complete hearing.