50,000 people attended 35th International Mawlid-un-Nabi ﷺ Conference: MQI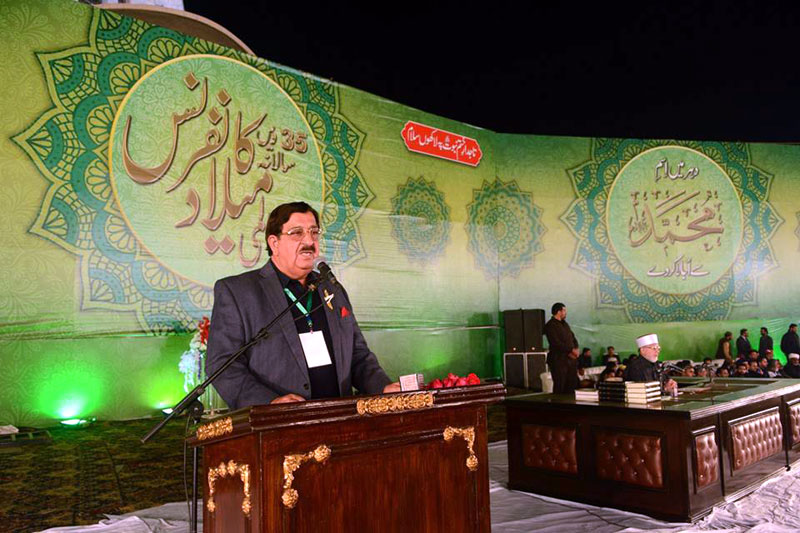 More than 50,000 people attended the 35th edition of International Mawlid-un-Nabi ﷺ Conference at the Minar-e-Pakistan during the intervening night of 11th and 12th Rabi-ul-Awwal. The mega Milad event, the biggest in the Islamic world, was held in Lahore under the banner of the MQI. The people belonging to several walks of life including overseas Pakistanis from Canada, India, Europe, Saudi Arabia and the UAE, faith leaders, political and religious leaders, and Mashaykh attended the Conference. He said that there was a massive representation of all the federating units of Pakistan in the event.
MQI Secretary General Khurram Nawaz Gandapur stated this while talking to media at the central secretariat in Lahore on November 22. He said that by representative participation in the Conference, the message sent across the world is that the people of Pakistan and all communities living here are bound in a thread of brotherhood.
Meanwhile, PAT Chairman Dr Muhammad Tahir-ul-Qadri hosted a Milad feast for the distinguished guests including the overseas Pakistanis and central and provincial leaders of the party who attended the International Mawlid-un-Nabi ﷺ Conference at his residence. Speaking on the occasion, he said that those who played their role in the successful conduct of the Conference deserve to be appreciated.
Those who were present at the Milad feast included Dr Hassan Mohi-ud-Din Qadri, Dr Hussain Mohi-ud-Din Qadri, Brig. (r) Iqbal, Rafique Najam, GM Malik, Ahmad Nawaz Anjum, Sayyid Nad-e-Ali, Mian Zahid Islam, Noorullah Siddiqui, Raja Zahid, Adnan Javed, Zill-e-Hussain, Faisal Khan, Jawad Hamid, Syed Amjad Ali Shah, Ghulam Murtaza Alvi, Ms. Farah Naz, Shahzad Rasool, Allama Imdadullah Qadri, Mazhar Alvi, Irfan Yousaf, and Naeem-ud-Din Chaudhry Advocate.
Dr Tahir-ul-Qadri congratulated Sardar Latif Khan Khosa, Chaudhry Salik Hussain, provincial ministers Mian Aslam Iqbal, Murad Raas and Sahibzada Syed Saeed-ul-Hassan Shah, PPP leader Ch. Manzoor and Barrister Amir Hassan, Maulana Mufti Abdul Qavi, Pir Sayyid Waheedullah Shah, Pir Muhammad Hussain Qalandari, Pir Naseer-ud-Din Charagh, Pir Asim Saleem Hajveri, Mufti Mahboob Siddiqi, Jamshed Iqbal Cheema, Ghulam Mohi-ud-Din Dewan, Hassan Murtaza, Zahid Fakhri, Prof Abdur Rauf Roofi, Sahibzada Tasleem Ahmad Sabri, Khalid Pervez, Dr Manohar Chand, Rev. Faraz Malik Griffin, Giani Sardar Ranjeet Singh, and other guests and thanked them for participating in the Mawlid-un-Nabi ﷺ Conference on his special invitation.