Minhaj University Lahore Convocation 2018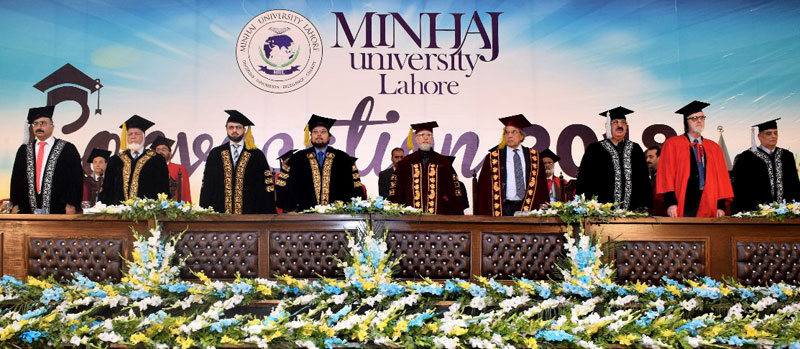 Lahore (25 November 2018) "Education cannot be put on the path of progression without using all the possible resources. He highly appreciated the laudable contribution of Shaykh-ul-Islam Dr. Muhammad Tahir-ul-Qadri Chairman BOG Minhaj University Lahore in the field of Education, Social Welfare and contemplating the various aspects of Religion in a thought provoking manner. The role of Dr. Tahir-ul-Qadri is highly commendable in the sphere of eliminating extremism. In this respect, he is unique and outstanding in the entire world". This was stated by the Governor Punjab Ch. Muhammad Sarwar (Chancellor MUL) while presiding over the convocation 2018 at Minhaj University Lahore.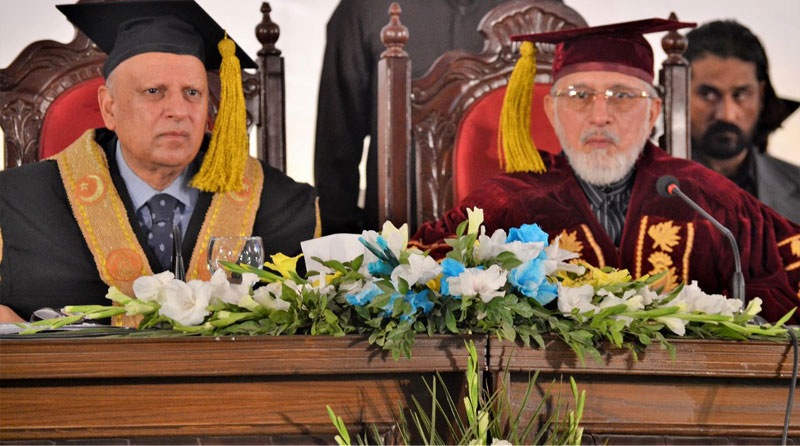 Shaykh-ul-Islam Prof. Dr. Muhammad Tahir-ul-Qadri congratulated all the students on their success. He expressed his gratitude and word of thanks to all the honorable guests for gracing the convocation. He stated that, the basic objective of education is to become a noble human with the spirit of serving humanity. Seek knowledge by taking it as obsession and passion. Any adultery in your thoughts which is related to materialistic gains would bring down your creativity to the lowest ebb, even if you are highly educated. Education needs is name of affection and love. It is that love with which you bow before Almighty. The understanding of education in its real sense is not possible without sacrifice of time, labor and studious efforts. Humbleness is gate way to be a knowledgeable person and which interns is a source of intuition.
Dr. Hussain Mohi-ud-Din Qadri Deputy Chairman BOG MUL stated while emphasizing the worth of the degree that it is a symbol of combine efforts, sacrifice and support of parents and friends. He expressed his deep heartiest greetings to all the families for the glorious success of Minhajians. He emphasized that without imbibing harmonious cooperation of the spiritual, intellectual, social and physical aspects of your lives. You could not be part of this convocation to receive your degrees. Minhaj University Lahore makes every effort to assist students to attain the top notch level of education. The objective of specialized knowledge is deeply integrated with the awareness of social responsibilities to be a good citizen of Pakistan and member of the global community.
Dr. Muhammad Aslam Ghauri Vice Chancellor of Minhaj University in his welcome address paid his rich tribute to all the successful students. Minhaj University Lahore since its establishment in 1986 has turned a gigantic university to meet all the educational challenges with respect to the parameters of social and religious obligations. It is the matter sheer pride and honor for us that at this grand convocation 1701 students got their degree, Gold medalist are 45, Roll of Honor has been achieved 135 students and those attained merit certificates are 158. I again congratulate them on their life time success and wish them best of luck to start new era of their practical life journey.
Dr. Hassan Wahditi Shabbiri Vice Chancellor Rizvi University Mash'had Iran said that it is matter of honor for me to be one of the participants of convocation. He expressed his extreme liking for the city of Lahore for being its association with the great poet Dr. Allama Muhammad Iqbal National poet of Pakistan. He added that the message of Islam of equality is the ultimate identity of Islam. He paid his high tribute on the very success of splendid "International Milad Conference".
The distinguished guest who participated in the convocation are: Dr. Hassan Mohi-ud-Din Qardi (Chairman Supreme Council Minhaj-ul-Quran International), Khurram Nawaz Gandapur (Nazim-e-Aala Minhaj-ul-Quran International), Dr. Shahid Saroya (Pro Vice Chancellor Minhaj University Lahore), Madam Rabia (Director Minhaj University Media Cell), Madam Robina Saeed (HOD School of Mass Communication), Madam Samreen Khurram Aftab (Director Social Media), Col (r) Muhammad Ahmed (Registrar Minhaj University Lahore), Prof. Dr. Shahid Munir (VC University of Jhang), Dr. Rafiq Baloch (VC Lahore Leads University), Prof. Dr. Nizam. u. Din (Chairperson Punjab Higher Education Commission), Prof. Dr. Khaliq-ur-Rahman (Former VC of GCU, Member PHEC), Prof. Dr. Hassan Wahditi Shabbiri (VC Rizvi University Mash'had Islamic Republic of Iran). From Cooperate sector the guest who grace the convocation were: Dr. Shahid Zia (Director ASIEM), Mr. Naeem Iqbal (CEO Qarshi Pakistan), MR. Sajid Lateef (DG Punjab Information Technology Board), Mr. Muhammad Ozair Shah (General Manager LTC), Mr. Major. (r) Abdul Razzaq Director HR Punjab Education Foundation), Mr. Muhammad Sohail (Joint Director Airport Service), Mr. Saqib Majeed (Head QA Samsung Pakistan).