Minhaj University Lahore Convocation 2018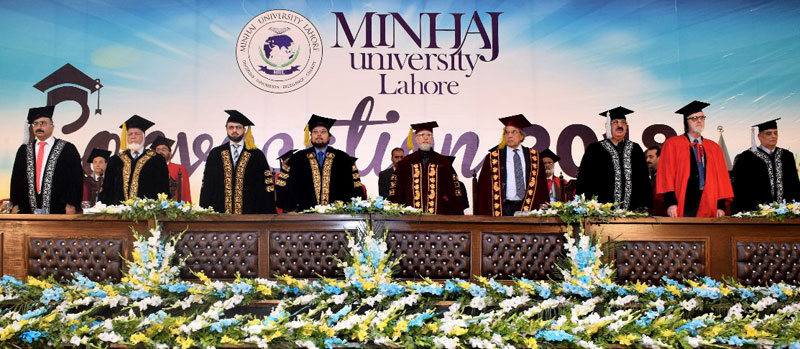 Addressing the annual Convocation of Minhaj University Lahore (MUL), Governor Punjab, Chaudhry Muhammad Sarwar has said that the government is committed to promotion of education in the country and will utilize all resources for this purpose. He said that he greatly appreciated the services of Dr Tahir-ul-Qadri, Chairman of MUL Board of Governors, for Islam, education and social sector. He said that Shaykh-ul-Islam presented the Islamic point of view to address the challenges of extremism and terrorism and promote peace and tolerance and it is after his narrative got popularised in the world that we were able to proudly say that Islam has got nothing to do with terrorism or extremism.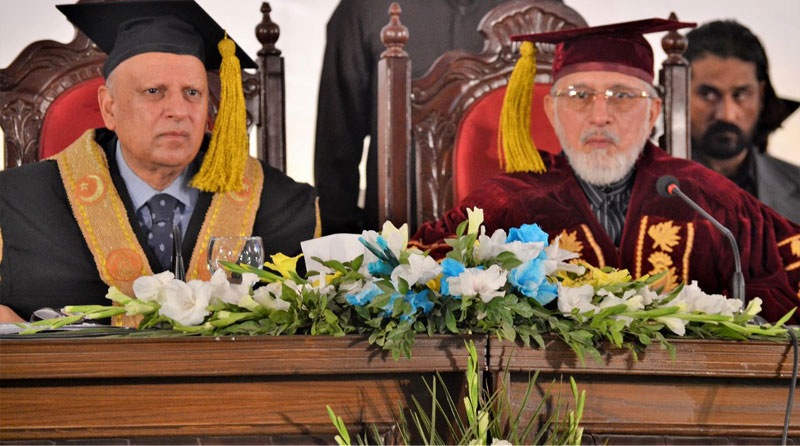 Shaykh-ul-Islam Dr Muhammad Tahir-ul-Qadri presided over the Convocation, whereas the Chancellor of Rizvi Islamic University Iran, Hujja-tul-Islam Dr Sayyid Muhammad Hassan Wahadati Shabbiri, Chairman of the MQI Supreme Council, Dr Hassan Mohi-ud-Din Qadri, Deputy Chairman MUL BoG, Dr Hussain Mohi-ud-Din Qadri, Chairman Punjab Higher Education Commission, Dr Nizam-ud-Din, Vice Chancellor MUL Dr Muhammad Aslam Ghauri, Khurram Nawaz Gandapur, Dr Shahid Saroya, Dr. Herman Roborgh and Col. (r) Muhammad Ahmad were also present on the occasion. Governor Punjab Chaudhry Muhammad Sarwar and Dr Tahir-ul-Qadri gave away prizes, certificates and shields to the graduating students.
While addressing the participants of the Convocation, Dr Tahir-ul-Qadri thanked the Punjab Governor for taking time out to attend the Convocation on his request. He said that wherever is extremism, there isn't going to be any knowledge, for the latter eliminates the former. He asked the graduating students to remain focused on knowledge acquisition. He made it clear to them that merely getting a degree is not knowledge learning, stating that they are two different things. He said that the knowledge we get through degrees is the first step on the ladder of the knowledge learning. He said that those endowed with knowledge make people's lives easy. They are that group of people that benefits all those who come in contact with them. He said that efforts made to promote education are a worship. He said that MUL spends millions of rupees annually on giving scholarships to the deserving but talented students.
Dr Hussain Mohi-ud-Din Qadri, while addressing the Convocation, said that the students who graduated from the Minhaj University over the years are representing Pakistan in different countries. He said that one key distinction of MUL is that it provides moral and spiritual training to the students in addition to imparting education in modern fields. He said that merely getting a degree is not a success, rather becoming a responsible and productive citizen is the ultimate purpose. He said that MUL is also a centre of spiritualism in addition to being a higher seat of learning for teaching of contemporary sciences.
Dr Sayyid Hassan Wahdati Shabbiri stated in his speech that he very much likes Lahore, the city of Allama Iqbal. He said that the Holy Prophet (pbuh) gave the message of equality. He said that equality is identity of the Islamic world.
Dr Nizam-ud-Din, Chairman Punjab HEC, said on that the occasion that the Minhaj University has earned a distinguished place for itself in the private sector in a short span of time and we are very happy on this achievement. He said that the male and female students who have graduated from the University in various disciplines and courses deserve to be congratulated for their feat.
VC MUL Dr Aslam Ghauri said that MUL is ready to fulfill the requirements of knowledge creation and research in the contemporary age. He gave a briefing on educational activities and various disciplines of the University.
Those who attended the Convocation from among the distinguished participants included Brig. (r) Muhammad Iqbal, Dr Shahid Muneer, VC of the University of Jhang, Dr Rafique Baloch, Prof. Dr Khaleeq-ur-Rahman, Dr Zahid Zia, Naeem Iqbal, Sajid Latif, Muhammad Uzair Shah, Major (r) Abdur Razzaq, Muhammad Sohail, Saqib Majeed, Jamshed Iqbal Cheema, Sadia Sohail Rana, Shawana Bashir MPA, Secretary Education Qaiser Shahzad, Barrister Amir Hassan, Faisal Buttar, GM Malik, Sohail Raza, Shahzad Rasool, Haji Ishaq and Abdul Hafeez Chaudhry. Ms. Samreen performed the duty of the stage secretary.