The pious are the blessed people in sight of Allah: Dr Tahir-ul-Qadri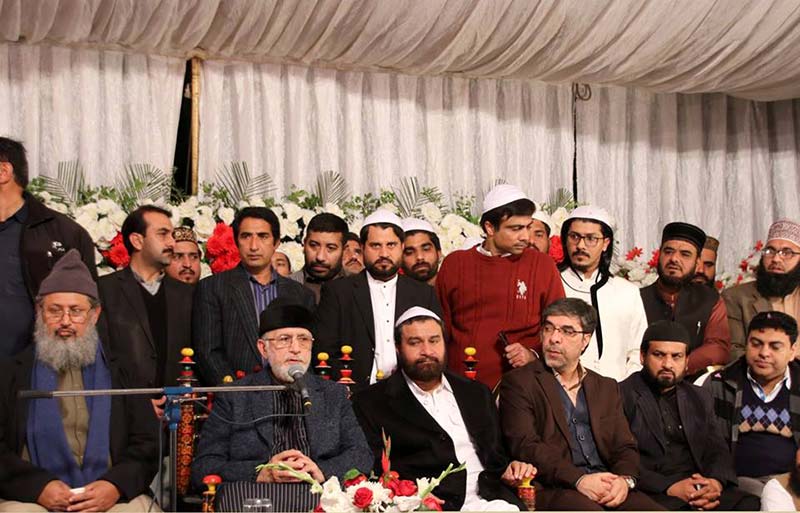 Shaykh-ul-Islam Dr Muhammad Tahir-ul-Qadri attended the annual Urs ceremony of the father of Punjab provincial minister for religious affairs Sahibzada Saeed-ul-Hassan Shah on his special invitation and addressed it on the subject of the status of the Sufis and the friends of Allah. He said that it is not the people in power but those with character who are the friends and saints of Allah Almighty. He said that piety means to fear and this concept makes one become friend of Allah. He said that the meaning of piety is that a saint remains within the confines set by Allah and does not deviate from the path and where He does not like His friends to be, they do not go there. He said that those who are pious and fear Him are among His blessed people, stating that we should always pray to Allah to enable us to follow the path of His favored people. He said that the Sufis and friends of Allah gave the message of respect of and service to humanity without any discrimination of caste, creed and colour, adding that it is for this reason that the followers of other faiths also extend reverence to the Sufis.
Provincial Minister Sahibzada Saeed-ul-Hassan Shah thanked Dr Tahir-ul-Qadri for accepting his request to spare time to address the 'Urs' ceremony of his late father. The hundreds of workers including Hafiz Ghulam Farid, Ishtiaq Hanif Mughal, Farooq Alvi, Mansoor Bilal, Rana Shakeel, Malik Ameen, Aashiq Hamdami, Raja Mahmood Aziz, and Asghar Javed attended the ceremony. When Shaykh-ul-Islam reached the venue, he was extended a warm welcome. The workers showered rose petals and chanted passionate slogans.