The 2nd Islamic Economics & Finance Conference to be held at Pearl Continental from 5th Jan 2019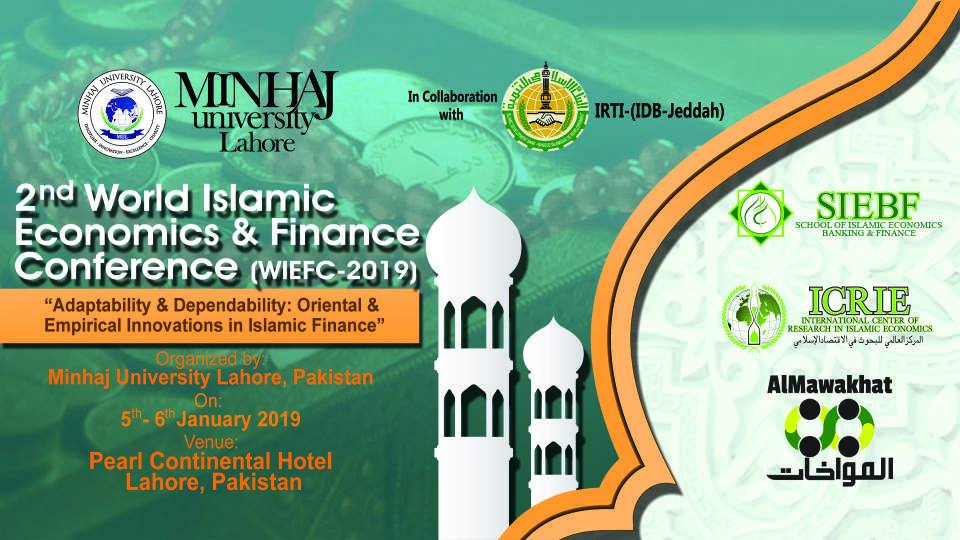 Minhaj University Lahore in chain with the 1st Islamic Economics & Finance Conference-2018 held at Pearl Continental on 3rd & 4th January- 2018 bearing theme "Developing Economy of Islam with Islamic Finance". Where notable international speakers participated, lifetime achievement & best paper awards were accorded.
On the same pattern is hosting the 2nd Islamic Economics & Finance Conference-2019 with theme "Adaptability and Dependability: Oriental & Empirical Innovations in Islamic Finance", reflecting the fact that the global economy finds itself at a critical inflection point. WIEFC 2019 aims to enable Islamic economics and finance to grow as an economic system while equipping leaders with insights to navigate the complexity of the global financial system.
In this conference, notable and reputable International Speakers will be participating:
Prof Dr. Rodney Wilson (UK)
Prof. Dr Kabir-ul-Hassan (USA)
Dr. Tauseef Azid (Saudi Arabia)
Dr. Mohamad Ariff (Malaysia)
Dr. Walid Mansour (Saudi Arabia)
Dr. Maria Bhatti (Australia)
Dr. Naseem Al Rahahleh (Saudi Arabia)
Prof. Dr. Humayon Dar (Saudi Arabia)
Dr. Mughees Shaukat (Oman)
Prof. Dr. Ishaq Bhatti (Australia)
The conference will provide grand opportunity for participants to interact with the International Speakers. The best paper award of US$ 1,000 and lifetime Achievement Award for Islamic Economist & certificates will be consorted. There will be 2 days panel discussions with topics bearing "Solving Housing Puzzle, Lesson Form Global Experiences & Islamic Micro Finance & SMEs in a Clean & Green Pakistan.